Description
Prophecy far Today is a summary of the Catholic tradition concerning the End-of-Time era. This period begins with the turmoil which leads to the emergence of the Great Monarch, a Catholic king who, out of the wars and revolutions of his time, triumphs victorious over the enemies of God to assume control of the entire world. Under his rule, mankind enjoys a great worldwide peace. And during this time there reigns on the throne of Peter a saintly pope, called the "Angelic Pastor," who helps bring about the conversion of virtually the entire world.
After the Great Monarch and the Angelic Pastor comes the time of Antichrist with its dreadful conditions. For this period, the author bases his writings mostly on Sacred Scripture.
In writing Prophecy for Today, Edward Connor has achieved a remarkable feat because, within relatively few pages, he gives an accurate summation of the broad subject of Catholic prophecy relative to this epoch. Besides his main themes, he also discusses the Three Days of Darkness, the prophecy of St. Malachy, the signs before the end of the world, the earthly and heavenly scourges, and our spiritual aids in rimes of distress.
In all, Prophecy for Today in an enthralling study, excellent as an introduction to and an overview of Catholic prophecy, as well as a review for those who have read the other books on the subject.
"Between the cries 'Everything is Lost' and 'Everything is saved' there will be scarcely any interval." – Abbe Souffrand (d. 1828)
"God will choose a descendant of Constantine, Pepin, and St. Louis, 111ho has been tried by a long period of disappointment to come from exile to rule over Europe. He will have the sign of the cross on his breast and besides being a religious man,will be kind, wise, just and powerful. Under him the Catholic religion will spread as never before"
– Josefa von Bourg (d. 1807)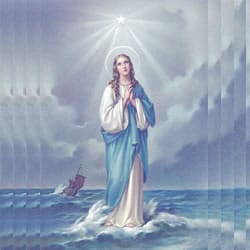 VIRGÓ SACRÁTA is a Christian mission-driven online resource and shop inspired from the beauty of Catholic faith, tradition, and arts. Our mission is to "Restore All Things to Christ!", in continuing the legacy of Pope St. Pius X under the patronage of the Blessed Virgin Mary. "Who is she that cometh forth as the morning rising, fair as the moon, bright as the sun, terrible as an army set in battle array?" O Mary, conceived without sin, pray for us who have recourse to Thee.