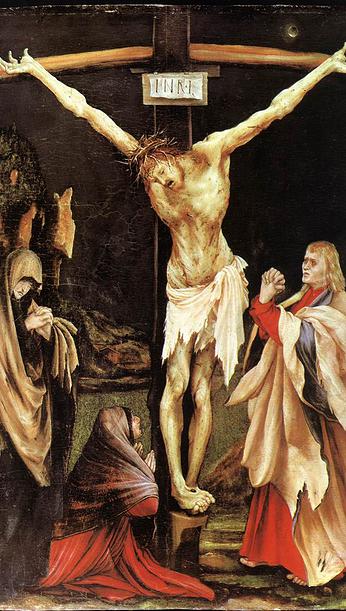 "33 Et postquam venerunt in locum qui vocatur Calvariæ, ibi crucifixerunt eum: et latrones, unum a dextris, et alterum a sinistris. 34 Jesus autem dicebat : Pater, dimitte illis: non enim sciunt quid faciunt. Dividentes vero vestimenta ejus, miserunt sortes. 35 Et stabat populus spectans, et deridebant eum principes cum eis, dicentes: Alios salvos fecit, se salvum faciat, si hic est Christus Dei electus. 36 Illudebant autem ei et milites accedentes, et acetum offerentes ei, 37 et dicentes : Si tu es rex Judæorum, salvum te fac. 38 Erat autem et superscriptio scripta super eum litteris græcis, et latinis, et hebraicis : Hic est rex Judæorum. 39 Unus autem de his, qui pendebant, latronibus, blasphemabat eum, dicens: Si tu es Christus, salvum fac temetipsum et nos. 40 Respondens autem alter increpabat eum, dicens: Neque tu times Deum, quod in eadem damnatione es. 41 Et nos quidem juste, nam digna factis recipimus : hic vero nihil mali gessit. 42 Et dicebat ad Jesum : Domine, memento mei cum veneris in regnum tuum. 43 Et dixit illi Jesus: Amen dico tibi : hodie mecum eris in paradiso. 44 Erat autem fere hora sexta, et tenebræ factæ sunt in universam terram usque ad horam nonam. 45 Et obscuratus est sol, et velum templi scissum est medium. 46 Et clamans voce magna Jesus ait: Pater, in manus tuas commendo spiritum meum. Et hæc dicens, expiravit."
Pater noster, Qui es in coelis,
sanctificetur nomen Tuum;
adveniat regnum Tuum;
fiat voluntas Tua,
sicut in coelo et in terra.
Panem nostrum quotidianum da nobis hodie;
et dimitte nobis debita nostra,
sicut et nos dimittimus debitoribus nostris;
et ne nos inducas in tentationem; sed libera nos a malo.

Amen.


(Decies repetita: Repeat each "Ave Maria" 10 times):

Ave Maria, gratia plena,
Dominus tecum;
benedicta tu in mulieribus,
et benedictus fructus ventris tui, Jesus.
Sancta Maria, Mater Dei,
ora pro nobis peccatoribus,
nunc et in hora mortis nostrae. Amen.

Gloria Patri,
et Filio,
et Spiritui Sancto.
Sicut erat in principio,
et nunc,
et semper,
et in saecula saeculorum.

Amen.

(optional)
O Bone Jesu, libera nos a peccatis nostris; libera nos ab ignibus gehennae; perduc in paradisum omnes animas praesertim eas quae plus misericordia tua indigent!
---
Prayers Audio courtesy of The Boston Catholic Journal. All copyrights belong to their respective owners. No additions, deletions, or changes are to be made to the text or audio files in any way, and the copies may not be sold for a profit.
---