Description
True Devotion to the Blessed Virgin is one of the greatest and most celebrated books ever written about Our Lady. Praised by popes, mystics and theologians, this profound and powerful book presents Mary as the essential and infallible key to the heart of Jesus. Nowhere will you find a deeper and more life-changing book on that quintessentially Catholic doctrine: the role of the Blessed Virgin Mary in the life of the Christian and the life of the Church.
In this beautiful and sublimely inspiring book, de Montfort explains the wonderful spiritual effects which true devotion to Mary brings about in a person's life. This new edition includes an expanded Preparation for Total Consecration with readings and prayers. There is no better way to advance quickly in holiness, no better way to please God, and no better way to guarantee one's present sanctity and eternal salvation than the true devotion to Mary.
"Having read nearly every book on devotion to the Blessed Virgin and talked to the most saintly and learned people of the day, I can now state with conviction that I have never known or heard of any devotion to our Lady which is comparable to the one I am going to speak of. No other devotion calls for more sacrifices for God, none empties us more completely of self and self-love, none keeps us more firmly in the grace of God and the grace of God in us. No other devotion unites us more perfectly and more easily to Jesus. Finally no devotion gives more glory to God, is more sanctifying for ourselves or more helpful to our neighbour." ~ Saint Louis-Marie De Montfort.
The author of The Secret of the Rosary and the originator of total consecration to Mary, St. Louis-Marie Grignion De Montfort (1673-1716) remains one of the greatest apostles of Marian devotion the world has ever known. As a young priest, De Montfort dedicated himself to preaching to the people. This highly gifted orator's language was simple but full of divine love, much as you will find in True Devotion to Mary. De Montfort's whole life was marked by constant prayer, love for the poor and holy joy in humiliations and persecutions. De Montfort was canonized by Pius XII in 1947.
Read Sample Chapters from "The True Devotion to the Blessed Virgin":
---
Marks of False Devotion to Virgin Mary
Marks of Authentic Devotion to Our Lady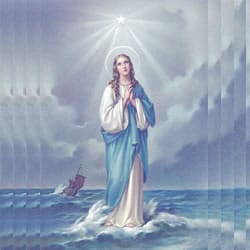 VIRGÓ SACRÁTA is a Christian mission-driven online resource and shop inspired from the beauty of Catholic faith, tradition, and arts. Our mission is to "Restore All Things to Christ!", in continuing the legacy of Pope St. Pius X under the patronage of the Blessed Virgin Mary. "Who is she that cometh forth as the morning rising, fair as the moon, bright as the sun, terrible as an army set in battle array?" O Mary, conceived without sin, pray for us who have recourse to Thee.