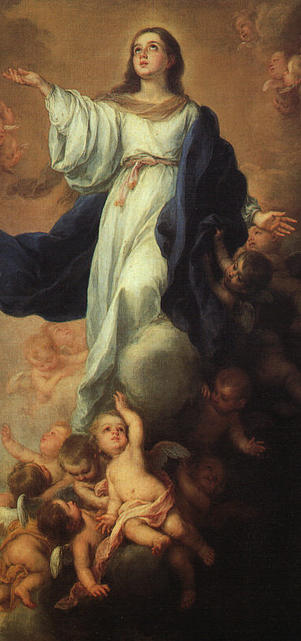 "Nolumus autem vos ignorare fratres de dormientibus, ut non contristemini sicut et ceteri, qui spem non habent. Si enim credimus quod Jesus mortuus est, et resurrexit: ita et Deus eos qui dormierunt per Jesum, adducet cum eo. Hoc enim vobis dicimus in verbo Domini, quia nos, qui vivimus, qui residui sumus in adventum Domini, non præveniemus eos qui dormierunt. Quoniam ipse Dominus in jussu, et in voce archangeli, et in tuba Dei descendet de cælo : et mortui, qui in Christo sunt, resurgent primi. Deinde nos, qui vivimus, qui relinquimur, simul rapiemur cum illis in nubibus obviam Christo in aëra, et sic semper cum Domino erimus. Itaque consolamini invicem in verbis istis." (1 Thess. 4.12-16)
Pater noster, Qui es in coelis,
sanctificetur nomen Tuum;
adveniat regnum Tuum;
fiat voluntas Tua,
sicut in coelo et in terra.
Panem nostrum quotidianum da nobis hodie;
et dimitte nobis debita nostra,
sicut et nos dimittimus debitoribus nostris;
et ne nos inducas in tentationem; sed libera nos a malo.
Amen.
(Decies repetita: Repeat each "Ave Maria" 10 times):
Ave Maria, gratia plena,
Dominus tecum;
benedicta tu in mulieribus,
et benedictus fructus ventris tui, Jesus.
Sancta Maria, Mater Dei,
ora pro nobis peccatoribus,
nunc et in hora mortis nostrae. Amen.

Gloria Patri,
et Filio,
et Spiritui Sancto.
Sicut erat in principio,
et nunc,
et semper,
et in saecula saeculorum.
Amen.
(optional)
O Bone Jesu, libera nos a peccatis nostris; libera nos ab ignibus gehennae; perduc in paradisum omnes animas praesertim eas quae plus misericordia tua indigent!
Mysteria Gloriosa: The Glorious Mysteries of the Holy Rosary Audio in Latin

---
Prayers Audio courtesy of The Boston Catholic Journal. All copyrights belong to their respective owners. No additions, deletions, or changes are to be made to the text or audio files in any way, and the copies may not be sold for a profit.
---