Description
A Message for Our Times
In a world lost in darkness and confusion, our merciful God refuses to give up or abandon His beloved people. Even in these times of worldly skepticism and sinfulness, He continues to reach out through modern-day prophecies, revealed to His chosen messengers through the appearance of the Blessed Virgin Mary.
Four Apparitions
Prophetic Messages for Our Times provides, in a brief and profound manner, the history and meaning of four of the most relevant Marian apparitions for our day: Quito, La Salette, Lourdes, and Fatima. The messages of Our Lady, while sometimes dire, offer hope and consolation to the faithful, yet more importantly reveal sure remedies for overcoming the evils of today and innumerable graces to those that follow her direction.
Our Mediatrix and Mother
How fortunate we are to have such a Blessed Mother, so desirous to draw souls into the heavenly embrace of her Divine Son.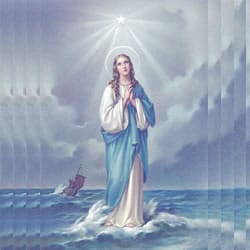 VIRGÓ SACRÁTA is a Christian mission-driven online resource and shop inspired from the beauty of Catholic faith, tradition, and arts. Our mission is to "Restore All Things to Christ!", in continuing the legacy of Pope St. Pius X under the patronage of the Blessed Virgin Mary. "Who is she that cometh forth as the morning rising, fair as the moon, bright as the sun, terrible as an army set in battle array?" O Mary, conceived without sin, pray for us who have recourse to Thee.