Description
This Seraphinite Gemstone Rosary is made with all sterling silver rosary parts, traditionally wire-wrapped by hand, making the rosary virtually unbreakable.
Seraphinite Gemstone Rosary Parts
---
Beads: Genuine Seraphinite Semiprecious Stone, 8 mm (53) and 10 mm beads (6)
Small Beads: 16 (3.5 mm) Sterling Silver 0.925
Rosary Center: Scapular Rosary Center 3/4″ (20 mm), Sterling Silver 0.925, Hand Engraved
Crucifix: Pardon 2 1/8″ (54 mm), Sterling Silver 0.925, Hand Engraved
Bead Caps: 12, Sterling Silver 0.925
Chain: Sterling Silver 0.925
Wire: Sterling Silver
Method: Wire-wrapped by hand
Total Length:  33,5″ (86 cm)
Gift box:  Included
Additional Product Information Tab contains information pertaining to shipping box dimensions only.
Seraphinite is mainly found only in the Lake Baikal region of Siberia. The name Seraphinite (rooted from the Greek "seraphim") was bestowed as miners felt it resembled the Seraphim angels, which refers to a grand celestial being and highest order of angels, said to attend the throne of God; identified by three pairs of wings. Virgin Mary, the Queen of Angels, is sure to send graces upon you while you pray the rosary and offer her and her divine son Jesus Christ your praise and love.
Seraphinite is softer than many other gemstones, but with care, this rosary can last for many generations. Seraphinite can be quite sensitive to strong pressure, high temperatures, and harsh household chemicals and cleaners. Avoid exposing seraphinite to bleach or sulphuric acid. Seraphinite can be cleaned using warm, soapy water. Wipe down stones using only a soft cloth and be sure to rinse well to remove any soapy residue.
Always remove any seraphinite rosary before exercising, playing sports or engaging in vigorous household chores. When storing your seraphinite rosary, store it separately. It is best to wrap your stones using a soft cloth and place them into a fabric-lined jewellery box we provide for extra protection.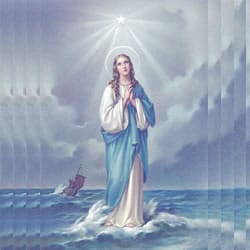 VIRGÓ SACRÁTA is a Christian mission-driven online resource and shop inspired from the beauty of Catholic faith, tradition, and arts. Our mission is to "Restore All Things to Christ!", in continuing the legacy of Pope St. Pius X under the patronage of the Blessed Virgin Mary. "Who is she that cometh forth as the morning rising, fair as the moon, bright as the sun, terrible as an army set in battle array?" O Mary, conceived without sin, pray for us who have recourse to Thee.