Description
The Rosary Warfare book provides us with several ways of praising Our Lady better.  As we pray the Rosary, with the aid of this book, we make use of all that we have at our disposal, from history: pictures, thoughts, summaries and even Gregorian Chant.
The Rosary is a major part of a Christian's daily warfare. No one with experience of the prayer of the Rosary will say that it is easy to pray, not that it is not a most powerful weapon against the devil. This book engages the soul in the combat for Eternal Salvation. It is a sequel to Christian Warfare, which gives much help to direct the soul in the daily battle of the Christian Life.
Rosary Warfare Book has 4 different parts
---
Scriptural Rosary: This is one of the most excellent Rosaries with thoughts from Holy Scripture to help us meditate on the mysteries.  This kind of Rosary is may be recited alone or with others.  If you are alone, you can read these phrases either before praying the Our Father, Hail Mary, or Glory be, or while you are praying them.
Sets of Meditation: These Rosaries paraphrase the text of the Bible in simpler language.
Extended Hail Mary Rosary: This type of Rosary consists in adding mentally or verbally a simple phrase after the words: "blessed is the fruit of thy womb, Jesus" in the Hail Mary to help us recall the mystery.
Rosary in Latin and with Gregorian Chant.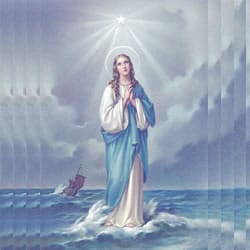 VIRGÓ SACRÁTA is a Christian mission-driven online resource and shop inspired from the beauty of Catholic faith, tradition, and arts. Our mission is to "Restore All Things to Christ!", in continuing the legacy of Pope St. Pius X under the patronage of the Blessed Virgin Mary. "Who is she that cometh forth as the morning rising, fair as the moon, bright as the sun, terrible as an army set in battle array?" O Mary, conceived without sin, pray for us who have recourse to Thee.