III. Tertium Mysterium Dolorosa: Iesus Spinis Coronatus (Jesus is Crowned with Thorns)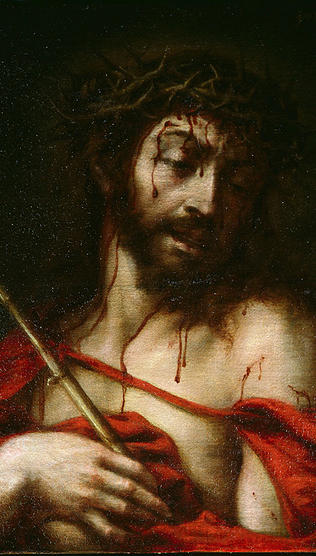 27 Tunc milites præsidis suscipientes Jesum in prætorium, congregaverunt ad eum universam cohortem : 28 et exuentes eum, chlamydem coccineam circumdederunt ei, 29 et plectentes coronam de spinis, posuerunt super caput ejus, et arundinem in dextera ejus. Et genu flexo ante eum, illudebant ei, dicentes : Ave rex Judæorum. 30 Et exspuentes in eum, acceperunt arundinem, et percutiebant caput ejus. 31 Et postquam illuserunt ei, exuerunt eum chlamyde, et induerunt eum vestimentis ejus, et duxerunt eum ut crucifigerent.
Pater noster, Qui es in coelis,
sanctificetur nomen Tuum;
adveniat regnum Tuum;
fiat voluntas Tua,
sicut in coelo et in terra. 
Panem nostrum quotidianum da nobis hodie; 
et dimitte nobis debita nostra, 
sicut et nos dimittimus debitoribus nostris; 
et ne nos inducas in tentationem; sed libera nos a malo. 

Amen.


(Decies repetita: Repeat each "Ave Maria" 10 times):

Ave Maria, gratia plena,
Dominus tecum;
benedicta tu in mulieribus,
et benedictus fructus ventris tui, Jesus. 
Sancta Maria, Mater Dei,
ora pro nobis peccatoribus,
nunc et in hora mortis nostrae. Amen.

Gloria Patri,
et Filio,
et Spiritui Sancto. 
Sicut erat in principio,
et nunc,
et semper,
et in saecula saeculorum. 

Amen.

(optional)
O Bone Jesu, libera nos a peccatis nostris; libera nos ab ignibus gehennae; perduc in paradisum omnes animas praesertim eas quae plus misericordia tua indigent!
The Sorrowful Mysteries of the Holy Rosary Audio in Latin

---
Prayers Audio courtesy of The Boston Catholic Journal. All copyrights belong to their respective owners. No additions, deletions, or changes are to be made to the text or audio files in any way, and the copies may not be sold for a profit.
---