I. Primum Mysterium: Iesus in Horto Olivarum
(The Agony in the Garden)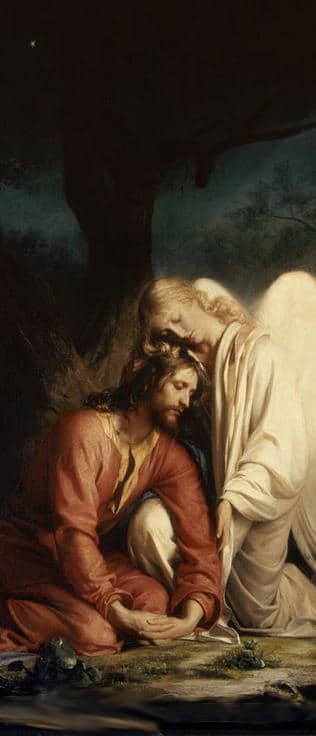 32 Et veniunt in prædium, cui nomen Gethsemani. Et ait discipulis suis: Sedete hic donec orem. 33 Et assumit Petrum, et Jacobum, et Joannem secum : et cœpit pavere et tædere. 34 Et ait illis: Tristis est anima mea usque ad mortem: sustinete hic, et vigilate. 35 Et cum processisset paululum, procidit super terram, et orabat ut, si fieri posset, transiret ab eo hora. 36 Et dixit: Abba pater, omnia tibi possibilia sunt: transfer calicem hunc a me: sed non quod ego volo, sed quod tu. 37 Et venit, et invenit eos dormientes. Et ait Petro: Simon, dormis ? non potuisti una hora vigilare? 38 vigilate et orate, ut non intretis in tentationem. Spiritus quidem promptus est, caro vero infirma. 39 Et iterum abiens oravit, eumdem sermonem dicens. 40 Et reversus, denuo invenit eos dormientes (erant enim oculi eorum gravati), et ignorabant quid responderent ei. 41 Et venit tertio, et ait illis : Dormite jam, et requiescite. Sufficit : venit hora: ecce Filius hominis tradetur in manus peccatorum. 42 Surgite, eamus: ecce qui me tradet, prope est.
Pater noster, Qui es in coelis,
sanctificetur nomen Tuum;
adveniat regnum Tuum;
fiat voluntas Tua,
sicut in coelo et in terra.
Panem nostrum quotidianum da nobis hodie;
et dimitte nobis debita nostra,
sicut et nos dimittimus debitoribus nostris;
et ne nos inducas in tentationem; sed libera nos a malo.

Amen.


(Decies repetita: Repeat each "Ave Maria" 10 times):


Ave Maria, gratia plena,
Dominus tecum;
benedicta tu in mulieribus,
et benedictus fructus ventris tui, Jesus.
Sancta Maria, Mater Dei,
ora pro nobis peccatoribus,
nunc et in hora mortis nostrae. Amen.

Gloria Patri,
et Filio,
et Spiritui Sancto.
Sicut erat in principio,
et nunc,
et semper,
et in saecula saeculorum.

Amen.

(optional)
O Bone Jesu, libera nos a peccatis nostris; libera nos ab ignibus gehennae; perduc in paradisum omnes animas praesertim eas quae plus misericordia tua indigent!
The Sorrowful Mysteries of the Holy Rosary Audio in Latin

---
Prayers Audio courtesy of The Boston Catholic Journal. All copyrights belong to their respective owners. No additions, deletions, or changes are to be made to the text or audio files in any way, and the copies may not be sold for a profit.
---