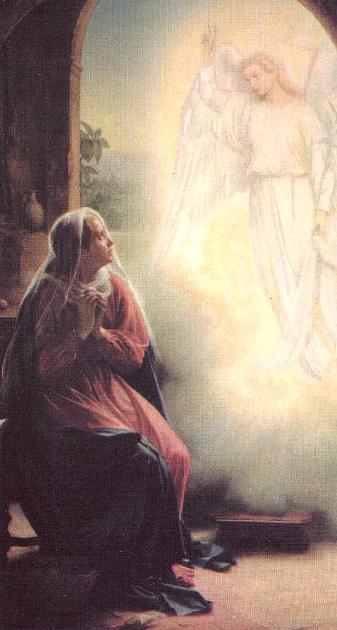 "26 In mense autem sexto, missus est angelus Gabriel a Deo in civitatem Galilææ, cui nomen Nazareth. 27 Ad virginem desponsatam viro, cui nomen erat Joseph, de domo David: et nomen virginis Maria. 28 Et ingressus angelus ad eam dixit : Ave gratia plena : Dominus tecum : benedicta tu in mulieribus. 29 Quæ cum audisset, turbata est in sermone ejus, et cogitabat qualis esset ista salutatio. 30 Et ait angelus ei: Ne timeas, Maria : invenisti enim gratiam apud Deum. 31 Ecce concipies in utero, et paries filium, et vocabis nomen ejus Jesum: 32 Hic erit magnus, et Filius Altissimi vocabitur, et dabit illi Dominus Deus sedem David patris ejus : et regnabit in domo Jacob in æternum, 33 et regni ejus non erit finis."
Pater noster, Qui es in coelis,
sanctificetur nomen Tuum;
adveniat regnum Tuum;
fiat voluntas Tua,
sicut in coelo et in terra.
Panem nostrum quotidianum da nobis hodie;
et dimitte nobis debita nostra,
sicut et nos dimittimus debitoribus nostris;
et ne nos inducas in tentationem; sed libera nos a malo.

Amen.



(Decies repetita: Repeat each "Ave Maria" 10 times):

Ave Maria, gratia plena,
Dominus tecum;
benedicta tu in mulieribus,
et benedictus fructus ventris tui, Jesus.
Sancta Maria, Mater Dei,
ora pro nobis peccatoribus,
nunc et in hora mortis nostrae. Amen.

Gloria Patri,
et Filio,
et Spiritui Sancto.
Sicut erat in principio,
et nunc,
et semper,
et in saecula saeculorum.

Amen.

(optional)
O Bone Jesu, libera nos a peccatis nostris; libera nos ab ignibus gehennae; perduc in paradisum omnes animas praesertim eas quae plus misericordia tua indigent!
The Joyful Mysteries of the Holy Rosary Audio in Latin:

---
Prayers Audio courtesy of The Boston Catholic Journal. All copyrights belong to their respective owners. No additions, deletions, or changes are to be made to the text or audio files in any way, and the copies may not be sold for a profit.
---