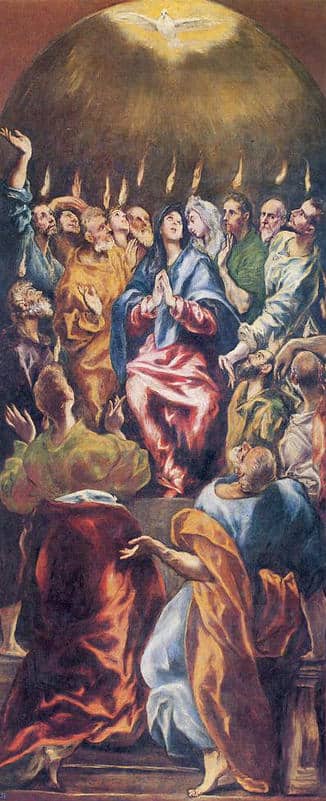 "Et cum complerentur dies Pentecostes, erant omnes pariter in eodem loco: et factus est repente de cælo sonus, tamquam advenientis spiritus vehementis, et replevit totam domum ubi erant sedentes. Et apparuerunt illis dispertitæ linguæ tamquam ignis, seditque supra singulos eorum : et repleti sunt omnes Spiritu Sancto, et cœperunt loqui variis linguis, prout Spiritus Sanctus dabat eloqui illis. Erant autem in Jerusalem habitantes Judæi, viri religiosi ex omni natione quæ sub cælo est. Facta autem hac voce, convenit multitudo, et mente confusa est, quoniam audiebat unusquisque lingua sua illos loquentes. Stupebant autem omnes, et mirabantur, dicentes : Nonne ecce omnes isti qui loquuntur, Galilæi sunt? Et quomodo nos audivimus unusquisque linguam nostram in qua nati sumus? Parthi, et Medi, et Ælamitæ, et qui habitant Mespotamiam, Judæam, et Cappadociam, Pontum, et Asiam, Phrygiam, et Pamphyliam, Ægyptum, et partes Libyæ quæ est circa Cyrenen : et advenæ Romani, Judæi quoque, et Proselyti, Cretes, et Arabes : audivimus eos loquentes nostris linguis magnalia Dei.Stupebant autem omnes, et mirabantur ad invicem, dicentes : Quidnam vult hoc esse? Alii autem irridentes dicebant : Quia musto pleni sunt isti." (Acts 2.1-13)

Pater noster, Qui es in coelis,
sanctificetur nomen Tuum;
adveniat regnum Tuum;
fiat voluntas Tua,
sicut in coelo et in terra.
Panem nostrum quotidianum da nobis hodie;
et dimitte nobis debita nostra, sicut et nos dimittimus debitoribus nostris;
et ne nos inducas in tentationem; sed libera nos a malo.
Amen.
(Decies repetita: Repeat each "Ave Maria" 10 times):
Ave Maria, gratia plena,
Dominus tecum;
benedicta tu in mulieribus,
et benedictus fructus ventris tui, Jesus.
Sancta Maria, Mater Dei,
ora pro nobis peccatoribus,
nunc et in hora mortis nostrae. Amen.
Gloria Patri,
et Filio,
et Spiritui Sancto.
Sicut erat in principio,
et nunc,
et semper,
et in saecula saeculorum. Amen.
(optional)
O Bone Jesu, libera nos a peccatis nostris; libera nos ab ignibus gehennae; perduc in paradisum omnes animas praesertim eas quae plus misericordia tua indigent!
Mysteria Gloriosa: The Glorious Mysteries of the Holy Rosary Audio in Latin

---
Prayers Audio courtesy of The Boston Catholic Journal. All copyrights belong to their respective owners. No additions, deletions, or changes are to be made to the text or audio files in any way, and the copies may not be sold for a profit.
---