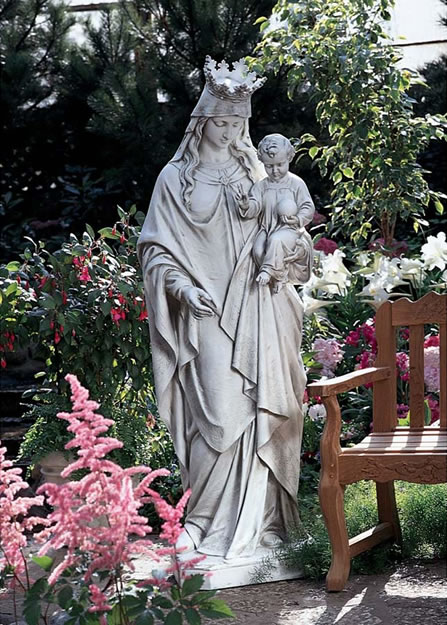 The following Outdoor Statue Maintenance Guide applies to statues available from Virgo Sacrata, made of fiberglass resin or fiber stone. The combination of the fiber and resin/cast stone provides greater strength, and makes a product suitable for indoor and outdoor use.
Please remember, while resin and cast stone are strong and durable, nature can be stronger. A little maintenance and care will keep your statuary investments beautiful for years to come.
During your garden season perform regular cleaning of outdoor statues with warm water and soft cloth or sponge. Do not use any cleaning chemicals, or dishwasher soap, or any anything abrasive, like a cleaning brush or scrubbing pad.
Many customers ask if our products stand up to long winters, extremely inclement weather, and freezing temperatures. The answer is yes, but only with proper care. While we expect the works of art we sell to be of the best quality, Mother Nature can be quite tough on these pieces. (Ice and freezing temperatures have compromised even Michelangelo's David!)
Extreme and rapid changes in temperature and humidity may affect your statues adversely. Resin and cast stone have an inherent tendency to expand and contract with climactic conditions. The ideal solution is to store your statuary or fountain away from direct exposure to the winter elements. A basement, garage or gardener's shed would be perfect.
Garden statues with designs that may retain or collect water should be covered or stored. They are also susceptible to damage by the effects of ice and wind. If they do not seem securely placed, lower them from their pedestals early in the winter. In windy cities, statues on terraces should be secured to permanent structures. Painted statues should be allowed to winter in a covered area. We strongly suggest that all portable statues be taken indoors in extremely inclement weather and freezing temperatures.
Painted statues will also benefit from a coat of clear acrylic spray paint to slow fading from sun exposure. Before spraying the entire statue, test it first at the bottom of the base. Protective coating can be reapplied as required.
If you have any questions about outdoor statue maintenance, please feel free to contact us, otherwise shop in confidence – we deliver directly from manufacturing plant to lower overall costs of our beautiful statues.
Related Article: How to Secure Outdoor Sculpture?