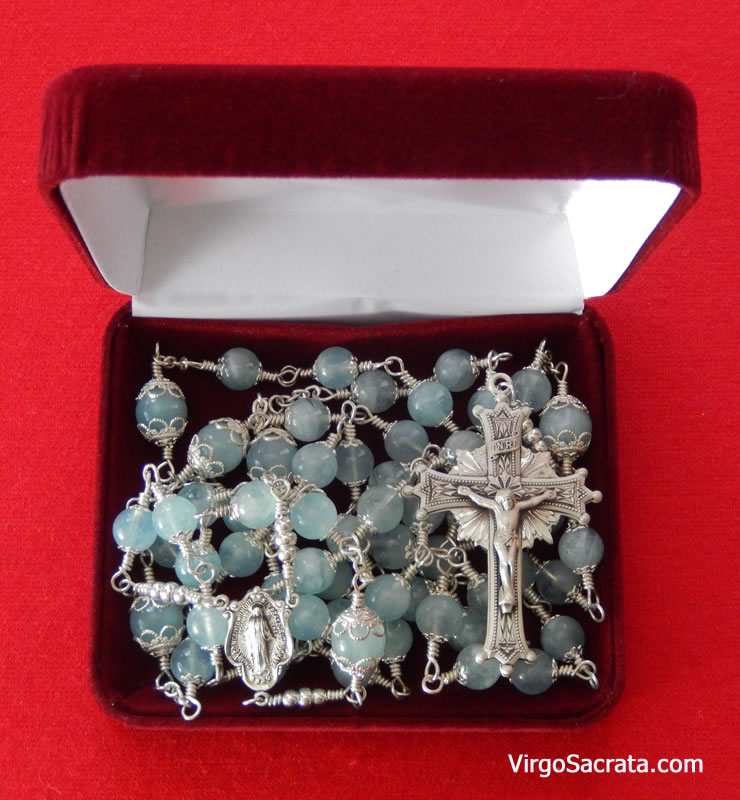 Miraculous Medal Aquamarine Gemstone Rosary is made with genuine Aquamarine semiprecious gemstone beads. The name Aquamarine comes from the Latin "aqua marinus", meaning "water of the sea" and resembles the sparkling ocean-like color. Aquamarine rosary is a perfect spiritual prayer companion to mediate on the mysteries of the Holy Rosary and receive graces through the intercession of the Blessed Virgin Mary. 
The Rosary Center "O Mary Conceived without Sin" (1930) is the medal of the of the Immaculate Conception known as the Miraculous Medal, designed by the Blessed Virgin herself!  No wonder, then that it wins such extraordinary graces for those who wear it, and pray for Mary's intercession and help.
The rosary also features the Sun Burst Crucifix.  Jesus said: "I am the light of the world: he that followeth me, walketh not in darkness, but shall have the light of life." (John 8:12-14).
Aquamarine Gemstone Sterling Silver Rosary Parts
Beads: Genuine Blue Aquamarine Semiprecious Gemstone Grade AAA, 8 mm (53 beads), and 10 mm (6 beads)
Rosary Center: The Miraculous Medal 7/8″ (22 mm), Sterling Silver 0.925
Crucifix: 2.3″ x 1.5″ (58mm X 39 mm), Sterling Silver 0.925
Bead Caps and other findings: Sterling Silver
Wire: Sterling Silver
Method: Wire-wrapped by hand
Total Length: 35.5″ (90 cm)
Gift box:  Included