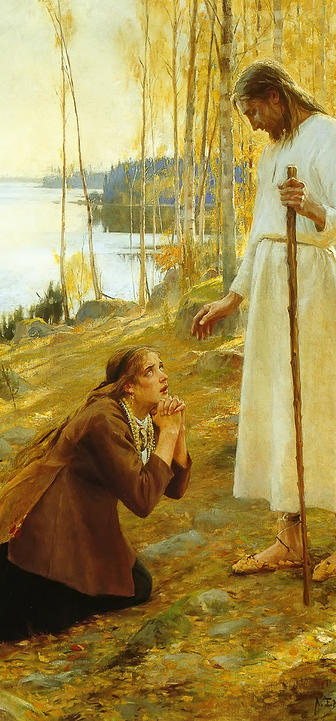 "Vespere autem sabbati, quæ lucescit in prima sabbati, venit Maria Magdalene, et altera Maria, videre sepulchrum. Et ecce terræmotus factus est magnus. Angelus enim Domini descendit de cælo: et accedens revolvit lapidem, et sedebat super eum: erat autem aspectus ejus sicut fulgur: et vestimentum ejus sicut nix. Præ timore autem ejus exterriti sunt custodes, et facti sunt velut mortui. Respondens autem angelus dixit mulieribus: Nolite timere vos : scio enim, quod Jesum, qui crucifixus est, quæritis. Non est hic: surrexit enim, sicut dixit : venite, et videte locum ubi positus erat Dominus. Et cito euntes, dicite discipulis ejus quia surrexit : et ecce præcedit vos in Galilæam: ibi eum videbitis : ecce prædixi vobis." (St. Matthew 28:1-7)
Pater noster, Qui es in coelis,
sanctificetur nomen Tuum;
adveniat regnum Tuum;
fiat voluntas Tua,
sicut in coelo et in terra. 
Panem nostrum quotidianum da nobis hodie; 
et dimitte nobis debita nostra, 
sicut et nos dimittimus debitoribus nostris; 
et ne nos inducas in tentationem; sed libera nos a malo. 

Amen.


(Decies repetita: Repeat each "Ave Maria" 10 times):

Ave Maria, gratia plena,
Dominus tecum;
benedicta tu in mulieribus,
et benedictus fructus ventris tui, Jesus. 
Sancta Maria, Mater Dei,
ora pro nobis peccatoribus,
nunc et in hora mortis nostrae. Amen.

Gloria Patri,
et Filio,
et Spiritui Sancto. 
Sicut erat in principio,
et nunc,
et semper,
et in saecula saeculorum. 

Amen.

O Bone Jesu, libera nos a peccatis nostris; libera nos ab ignibus gehennae; perduc in paradisum omnes animas praesertim eas quae plus misericordia tua indigent!
Mysteria Gloriosa: The Glorious Mysteries of the Holy Rosary Audio in Latin

---
Prayers Audio courtesy of The Boston Catholic Journal. All copyrights belong to their respective owners. No additions, deletions, or changes are to be made to the text or audio files in any way, and the copies may not be sold for a profit.
---