II. Secundum Mysterium: Iesus Flagellatus
(the Scourging at the Pillar)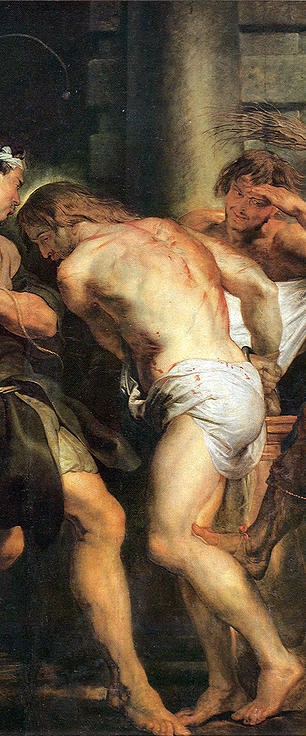 15 Per diem autem solemnem consueverat præses populo dimittere unum vinctum, quem voluissent: 16 Habebat autem tunc vinctum insignem, qui dicebatur Barrabas. 17 Congregatis ergo illis, dixit Pilatus: Quem vultis dimittam vobis: Barabbam, an Jesum, qui dicitur Christus? 18 Sciebat enim quod per invidiam tradidissent eum. 19 Sedente autem illo pro tribunali, misit ad eum uxor ejus, dicens: Nihil tibi, et justo illi : multa enim passa sum hodie per visum propter eum. 20 Principes autem sacerdotum et seniores persuaserunt populis ut peterent Barabbam, Jesum vero perderent. 21 Respondens autem præses, ait illis: Quem vultis vobis de duobus dimitti? At illi dixerunt: Barabbam. 22 Dicit illis Pilatus: Quid igitur faciam de Jesu, qui dicitur Christus? 23 Dicunt omnes: Crucifigatur. Ait illis præses : Quid enim mali fecit ? At illi magis clamabant dicentes: Crucifigatur. 24 Videns autem Pilatus quia nihil proficeret, sed magis tumultus fieret : accepta aqua, lavit manus coram populo, dicens : Innocens ego sum a sanguine justi hujus: vos videritis. 25 Et respondens universus populus, dixit : Sanguis ejus super nos, et super filios nostros. 26 Tunc dimisit illis Barabbam: Jesum autem flagellatum tradidit eis ut crucifigeretur.
Pater noster, Qui es in coelis,
sanctificetur nomen Tuum;
adveniat regnum Tuum;
fiat voluntas Tua,
sicut in coelo et in terra. 
Panem nostrum quotidianum da nobis hodie; 
et dimitte nobis debita nostra, 
sicut et nos dimittimus debitoribus nostris; 
et ne nos inducas in tentationem; sed libera nos a malo. 

Amen.


(Decies repetita: Repeat each "Ave Maria" 10 times):

Ave Maria, gratia plena,
Dominus tecum;
benedicta tu in mulieribus,
et benedictus fructus ventris tui, Jesus. 
Sancta Maria, Mater Dei,
ora pro nobis peccatoribus,
nunc et in hora mortis nostrae. Amen.

Gloria Patri,
et Filio,
et Spiritui Sancto. 
Sicut erat in principio,
et nunc,
et semper,
et in saecula saeculorum. 

Amen.

(optional)
O Bone Jesu, libera nos a peccatis nostris; libera nos ab ignibus gehennae; perduc in paradisum omnes animas praesertim eas quae plus misericordia tua indigent!
The Sorrowful Mysteries of the Holy Rosary Audio in Latin

---
Prayers Audio courtesy of The Boston Catholic Journal. All copyrights belong to their respective owners. No additions, deletions, or changes are to be made to the text or audio files in any way, and the copies may not be sold for a profit.
---