Description
St. Therese of Lisieux is known as a saint, mystic, Doctor of the Church and is one of the most venerated saints of the Church. Her simple, yet remarkably profound Little Way is a wonderful devotion for all Christians. Now, take the wisdom and holiness of Saint Therese wherever you go. In 30 Days with Saint Therese of Lisieux, Thomas J. Craughwell packs the wisdom of Saint Therese and the scriptures into a 30-day devotional. Supplemented by meditations and prayers for each day, 30 Days with Saint Therese of Lisieux is the perfect way to begin following her Little Way. Love of God, Love for Others, Prayer Faith Hope.
ST. THERESE THOUGHTS AND WORDS ABOUT PRAYER
---
"I have not the courage to force myself to seek beautiful prayers in books; not knowing which to choose I act as children do who cannot read; I say quite simply to the good God what I want to tell Him, and He always understands me."
"Prayer is, for me, an outburst from the heart; it is a simple glance darted upwards to Heaven; it is a cry of gratitude and of love in the midst of trial as in the midst of joy! In a word, it is something exalted, supernatural, which dilates the soul and unites it to God. Sometimes when I find myself, spiritually, in dryness so great that I cannot produce a single good thought, I recite very slowly a Pater or an Ave Maria; these prayers alone console me, they suffice, they nourish my soul."
"As I grew older I loved the good God more and more, and very frequently did I offer Him my heart, using the words my mother had taught me. I strove in all my actions to please Jesus and was most watchful never to offend Him."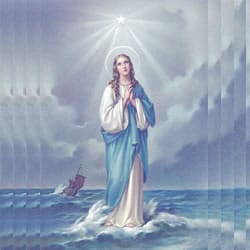 VIRGÓ SACRÁTA is a Christian mission-driven online resource and shop inspired from the beauty of Catholic faith, tradition, and arts. Our mission is to "Restore All Things to Christ!", in continuing the legacy of Pope St. Pius X under the patronage of the Blessed Virgin Mary. "Who is she that cometh forth as the morning rising, fair as the moon, bright as the sun, terrible as an army set in battle array?" O Mary, conceived without sin, pray for us who have recourse to Thee.