The Saint Therese Chaplet chaplet consists of 25 pearl beads. The 24 beads commemorating the 24 years of Saint Therese's life, and one additional bead. The use of this chaplet is encouraged by the Carmelite Fathers.
Saint Therese Chaplet Parts
---
Beads: Genuine Rose Quartz Gemstone Grade AAA (Madagascar)- 8mm and 10mm
Chaplet Center:  Sterling Silver .925. Engraved by hand.
Bead Caps: Sterling Silver .925
Medal: St. Therese of Lisieux 1″ x 3/4″ (25mm x 19mm), Sterling Silver .925. Engraved by hand.
Metal Parts: Sterling Silver 0.925
Wire: Sterling Silver
Method:  Wire-wrapped by hand
Total Length: 14″ (35 cm)
Gift box:  Included
---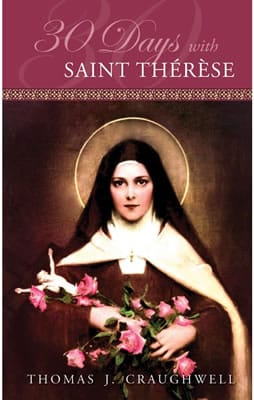 Take the wisdom and holiness of Saint Therese wherever you go. In 30 Days with St-Therese of Lisieux, Thomas J. Craughwell packs the wisdom of Saint Therese and the scriptures into a 30-day devotional.
Prayer of St Thérèse of Lisieux: "My life is but an instant, a passing hour. My life is but a day that escapes and flies away. O my God! You know that to love you on earth I only have today. Lord, what does it matter if the future is gloomy? To pray for tomorrow, oh no, I cannot! Keep my heart pure, cover me with your shadow Just for today. O divine Pilot! whose hand guides me. I'm soon to see you on the eternal shore. Guide my little boat over the stormy waves in peace Just for today."
St. Therese promised that she would shower roses from Heaven after her death. She also promised that those who prayed to her would always receive an answer. Her intercessory prayer is very powerful before the throne of God. "My mission – to make God loved – will begin after my death," she said. "I will spend my heaven doing good on earth. I will let fall a shower of roses." Roses have been described and experienced as Saint Therese's signature. Countless millions have been touched by her intercession and imitate her "little way." She has been acclaimed "the greatest saint of modern times."
Chaplet of St Therese – Little Flower Rosary Prayer
---
Make the Sign of the Cross, and say on the first bead:
"St. Therese of the Infant Jesus, Patroness of Missions, pray for us!"
On each of the remaining 24 beads say the Glory be… to honour the Holy Trinity in thanksgiving for having given us the Little Saint who lived in this world but 24 years.
"Glory be to the Father and to the Son and to the Holy Spirit. As it was in the beginning is now, and ever shall be, world without end. Amen."
Concluding prayer to St. Therese:
"St. Therese, the Little Flower, please pick me a rose from the heavenly garden and sent it to me with a message of love. Ask God to grant me the favour I thee implore and tell Him I will love Him each day more and more. Amen"
---
This prayer is often said as a 5-day Novena to St. Therese the Little Flower. Try to say it the same time every day so you don't forget. That is probably the reason why it is recommended saying the prayer before 11 a.m.  If you don't receive a rose by the 5th day, don't be discouraged, St. Therese is always listening and will answer you in God's Time.  Continue with perseverance. Pray with Confidence.