Description
The Haydock Bible – A Catholic Bible commentary compiled by the late Rev. Fr. George Leo Haydock, following the Douay-Rheims Bible
---
The Haydock Bible is a larger-print (12 point) format Douay-Rheims Catholic Bible with a comprehensive Catholic commentary, illustrated Catholic Bible dictionary, and history of the books of Holy Scripture are reproduced from the 1859 edition of Fr. Haydock, whose superb explanations and commentary cover a large portion of each page.
The invaluable commentary is drawn largely from the Fathers and Doctors of the Church. The copious commentary (which is NOT large print) and accompanying dictionary make it the best Bible available with a guide to understanding Holy Scripture.
Old Testament with engravings and illustrations, family registry, Tables (Biblical weights and measures, etc.), Historical and Chronological Index, New Testament with illustrated Bible Dictionary, Historical and Chronological Indices and History of the Books of the Bible.
Previous editions were in two softcover volumes. This edition is one hardcover volume on fine Bible paper with a gold-leaf image on the burgundy leather cover along with a satin ribbon marker.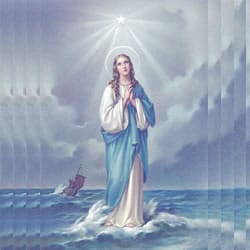 VIRGÓ SACRÁTA is a Christian mission-driven online resource and shop inspired from the beauty of Catholic faith, tradition, and arts. Our mission is to "Restore All Things to Christ!", in continuing the legacy of Pope St. Pius X under the patronage of the Blessed Virgin Mary. "Who is she that cometh forth as the morning rising, fair as the moon, bright as the sun, terrible as an army set in battle array?" O Mary, conceived without sin, pray for us who have recourse to Thee.