Description
The Crown of Our Lord Rosary Chaplet, also known as The Crown of Our Lord, The Rosary of Our Lord, or The Camaldolese Crown Rosary was instituted through divine inspiration about the year 1516, by the blessed Michael of Florence, a Camaldolese monk, who used to say it every day until his death, Jan. 11, 1522.
Crown of Our Lord Rosary Chaplet Parts
---
Beads: Genuine Angelite Semiprecious Gemstone, 8 mm (33 beads), and 10 mm (4 beads)
Chaplet Center:  Scapular Rosary Center 3/4″ x 1/2″, Sterling Silver 0.925. Engraved by hand
Crucifix: 1 7/8″ x 1″ (49 mm), Sterling Silver 0.925. Engraved by hand
Metal Parts: Sterling Silver 0.925
Wire: Sterling Silver 0.925
Method:Wire-wrapped by hand
Total Length:  24″ (61 cm)
Gift box:  Included
Additional Product Information Tab contains information pertaining to shipping box dimensions only
About the Camaldolese Crown Rosary (Crown Chaplet of Our Lord)
---
Pope Leo X, at the prayer of the above-named blessed Michael of Florence, granted by a Bull, dated February 18, 1516, several Indulgences to anyone who should keep about him the said Chaplet, or say it. Gregory XIII did as much by means of a Brief dated Feb. 14, 1573; and Sixtus V by another Brief, dated Feb. 3, 1589.
In order to gain the indulgences, it is necessary that:
1. The Chaplet he blessed by the Reverend Fathers of the Camoldolese order, either hermits or monks, or else by those who have apostolical authority to bless them. Once blessed, they cannot be sold, or lent to others for the purpose of communicating to them the indulgences: in which case they would afterwards be deprived of the Indulgences annexed to them according to the brief of Pope Clement X.
2. Everyone saying the Chaplet must, according to his capacity, meditate on the mysteries of the life of our Lord Jesus Christ. It is not, however, necessary either to read or recite the following short reflections, which are only added for the greater devotion of anyone who might wish to make use of them.
For more information, please visit our page, on how to pray the Crown Chaplet of Our Lord.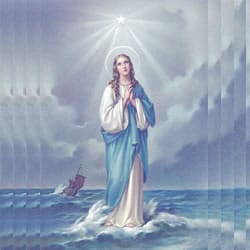 VIRGÓ SACRÁTA is a Christian mission-driven online resource and shop inspired from the beauty of Catholic faith, tradition, and arts. Our mission is to "Restore All Things to Christ!", in continuing the legacy of Pope St. Pius X under the patronage of the Blessed Virgin Mary. "Who is she that cometh forth as the morning rising, fair as the moon, bright as the sun, terrible as an army set in battle array?" O Mary, conceived without sin, pray for us who have recourse to Thee.