Description
Our Lady, Star of the Sea is an ancient title for the Virgin Mary, Mother of the Redeemer. Very important for this title is the following twelfth-century prayer from St. Bernard of Clairvaux:
If the winds of temptation arise;
If you are driven upon the rocks of tribulation look to the star, call on Mary;
If you are tossed upon the waves of pride, of ambition, of envy, of rivalry, look to the star, call on Mary.

Pray the rosary concluding on the medal of Our Lady, Stella Maris, with Ave Stella Maris.
"Our Lady, Star of the Sea" Rosary Parts
---
Beads: Translucent AA Peacock Blue Apatite 8mm (53), 5mm (12) and Deep Peacock Apatite 10mm (6)
Rosary Center:  Our Lady Star of the Seas Maris Rosary Center 1″, True Bronze.
Crucifix: Our Lady of the Valley, Lujan, Pompeii, and Stella Maris 2 1/2″, True Bronze
The crucifix and center are true bronze reproductions antique pieces, hand cast using the lost wax method, which retains all the original details and character of the pieces.
Bead Caps: Brass
Wire: Bronze
Method:  Wire-wrapped by hand
Total Length:  35″ (89 cm)
Gift box:  Included
Additional Product Information Tab: contains information pertaining to shipping box dimensions only.
About Maris Stella
---
The origin of the expression Stella maris is commonly attributed to St. Jerome (d. 420). However, Jerome called Mary stilla maris, meaning a drop of the sea. Perhaps a copyist transcribed this as Stella maris. Other authors recording the same Marian symbol include: Isidore of Seville (d. 636); Alcuin (d. 804); and Rhabanus Maurus (d. 856).
An explicit reference occurs in Paschasius Radbertus (d. 865):
Mary, Star of the Sea, must be followed in faith and morals lest we capsize amidst the storm-tossed waves of the sea. She will illumine us to believe in Christ, born of her for the salvation of the world.
Hincmar of Reims (d. 882) spoke of Mary as 'a star of the sea assumed into the heavens'.
There are also some ancient Marian hymns related to the title: Ave Maris Stella (eigth-ninth century); and Alma Redemptoris Mater (by Hermann of Reichenau, eleventh century).  It was a particular favorite of those chanting it as part of the Divine Office (the Liturgy of the Hours) in the Middle Ages.
Credit: The Marian Library/International Marian Research Institute, campus.udayton.edu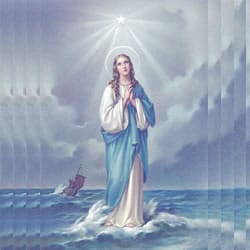 VIRGÓ SACRÁTA is a Christian mission-driven online resource and shop inspired from the beauty of Catholic faith, tradition, and arts. Our mission is to "Restore All Things to Christ!", in continuing the legacy of Pope St. Pius X under the patronage of the Blessed Virgin Mary. "Who is she that cometh forth as the morning rising, fair as the moon, bright as the sun, terrible as an army set in battle array?" O Mary, conceived without sin, pray for us who have recourse to Thee.