Description
Christian Warfare comes to the Rescue!  Prayers, Hymns, Doctrine and Spiritual Exercises
---
The Christian Warfare book is modelled after the French Livre Bleu (Blue Book), this English version is a gem. Its primary purpose is to assist with the Spiritual Exercises of St. Ignatius of Loyola as given by the famous Fr. Vallet and passed on to The Society of St. Pius X.  A Jesuit, Fr. Vallet had a charism for preaching the Ignatian Spiritual Exercises, and the Company of Jesus had appointed him director of the Retreat Center of Manresa in Catalonia, Spain. (Manresa is the place where St. Ignatius received in 1522, by an inspiration of the Blessed Virgin, the plan of the retreat that was to raise a barrier against Luther's private interpretation and Protestantism.)
The Deluxe Prayerbook includes everything below plus the following extras: Larger size; larger print; ribbons; more prayers than pocket edition plus: Epistles and Gospels for every Sunday of the year & some feast days. 576 pages; Hardcover 5 3/4″ x 4″ (14.5 cm x 10 cm ).
---
Have you forgotten your morning prayers?
Do you need an examination of conscience and preparation for Confession?
Did you forget your missal and want to follow Mass?
Are you on retreat and need an Ignatian Retreat book?
Did the priest come to bring you Holy Communion in the hospital and he forgot his ritual?
Did you forget the words to your favourite hymn?
Is someone receiving Extreme Unction and you want to follow along? or even pass your book to the priest?
Is a relative dying and you don't know what to say or do at their bedside?
Did you forget your evening prayers?
Do you need a prayer of Consecration to Our Lady?
Are you looking for a simple catechism?
Do you want to give a gift to a friend?
Would you like to have a devotion to Our Lady?
Do you need a travelling prayer?
Would you like to make a monthly retreat without leaving home?
Would you like to have a devotion to St. Joseph?
Do you have a prayer to your guardian angel?
Would you like a greater devotion to the Blessed Sacrament?
Do you pray for civil leaders?
Are you looking for a prayer to find out your vocation?
Do you have devotion to the Sacred Heart?
Did you forget the Sundays and Holydays of obligation? the fasting laws?
Do you need to baptise someone in danger of death?
Do you want to start a conversation about religion with the customs officer?
Do you want to give a gift to a teenager?
etc.
CHRISTIAN WARFARE TABLE OF CONTENTS
I DAILY PRAYERS AND INDULGENCES 1
II DEVOTION TO THE HOLY EUCHARIST 19
III DEVOTION TO THE PASSION OF OUR LORD JESUS CHRIST 91
IV DEVOTION TO THE SACRED HEART 112
V DEVOTION TO THE HOLY NAME OF JESUS 156
VI DEVOTION TO THE BLESSED VIRGIN MARY 158
VII DEVOTION TO SAINT JOSEPH 181
VIII DEVOTION TO THE HOLY ANGELS 188
IX DEVOTION IN FAVOUR OF THE SOULS IN PURGATORY 196
X APOSTOLATE TO THE SICK AND DYING 200
XI VARIOUS PRAYERS 224
XII THE MONTHLY RETREAT 240
XIII SHORT FAMILY CATECHISM 245
XIV HYMNS AND CHANTS 263
XV DEVOTIONS FOR CONFESSION 281
XVI SPIRITUAL EXERCISES – INTRODUCTION 313
XVII SPIRITUAL EXERCISES OF ST IGNATIUS 324
XVIII PROFESSIONS OF FAITH AND AMENDMENT452
XIX THIRD ORDER OF THE SOCIETY OF ST PIUS X 468
INDEX 494
TE DEUM – HYMN OF THANKGIVING 503
CONSECRATION OF THE HUMAN RACE TO THE IMMACULATE HEART OF MARY 507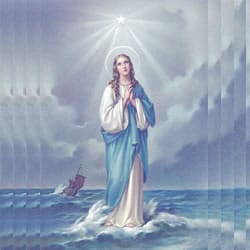 VIRGÓ SACRÁTA is a Christian mission-driven online resource and shop inspired from the beauty of Catholic faith, tradition, and arts. Our mission is to "Restore All Things to Christ!", in continuing the legacy of Pope St. Pius X under the patronage of the Blessed Virgin Mary. "Who is she that cometh forth as the morning rising, fair as the moon, bright as the sun, terrible as an army set in battle array?" O Mary, conceived without sin, pray for us who have recourse to Thee.