Description
Our Lady of Lourdes Votive Candles are hand-made from 100% pure, highest quality beeswax to honor Our Lady and seek her intercession for healing. There have been five thousand cures which have taken place. Sixty-five of these cures have been officially designated 'miraculous' by the Church. St. Bernadette once said of the spring she discovered that "one must have faith and pray; the water will have no virtue without faith." Let us all be inspired by the prayers to St. Bernadette and Our Lady of Lourdes, approach them with faith, hope and love. According to the Traditional Catholic Calendar, the Feast of Our Lady of Lourdes is February 11.
Prayer to St. Bernadette
---
O Saint Bernadette,
who, as a meek and pure child, did eighteen times at Lourdes
contemplate the beauty of the Immaculate Mother of God
and received her messages,
and who afterwards wished to hide yourself from the world in the convent of Nevers,
and to offer thyself there as a victim for the conversion of sinners,
obtain for us the grace of purity, simplicity and mortification
that we also may attain to the vision of God
and of Mary in Heaven.
Amen
Prayer to Our Lady of Lourdes
---
O ever immaculate Virgin, Mother of mercy,
health of the sick, refuge of sinners, comfort of the afflicted,
you know my wants, my troubles, my sufferings;
deign to cast upon me a look of mercy.
By appearing in the Grotto of Lourdes,
you were pleased to make it a privileged sanctuary,
whence you dispense your favors, and already many sufferers have obtained the cure of their infirmities,
both spiritual and corporal.
I come, therefore, with the most unbounded confidence,
to implore your maternal intercession.
Obtain, O loving Mother, the grant of my requests.
I will endeavor to imitate your virtues, that I may one day share your glory,
and bless you in eternity.
Amen.
Our Lady of Lourdes Votive Candles
---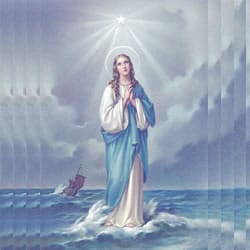 VIRGÓ SACRÁTA is a Christian mission-driven online resource and shop inspired from the beauty of Catholic faith, tradition, and arts. Our mission is to "Restore All Things to Christ!", in continuing the legacy of Pope St. Pius X under the patronage of the Blessed Virgin Mary. "Who is she that cometh forth as the morning rising, fair as the moon, bright as the sun, terrible as an army set in battle array?" O Mary, conceived without sin, pray for us who have recourse to Thee.