Description
Virgo Sacrata makes St. Therese of Lisieux – The Little Flower votive candles from 100% pure, highest quality beeswax with a burn time of over 15 hours.  They create beautiful ambiance with their warm glow, soft honey scent and air purifying effects that don't release toxins. Buy some and have your parish priest bless them for you.  Saint Therese of Lisieux, also known as "The Little Flower," and Therese of the Child Jesus and of the Holy Face and whom Holy Mother Church has called the "Prodigy of Miracles . . . the Greatest Saint of Modern Times."
Novena to St. Therese
---
"O Little Therese of the Child Jesus, please pick
for me a rose from the heavenly gardens and
send it to me as a message of love.
O Little Flower of Jesus, ask God today to grant
the favors I now place with confidence in your
hands….(Mentions specific requests)
St. Therese, help me to always believe as you
did, in God's great love for me, so that I might
imitate your "Little Way" each day. Amen
Pray the novena with great devotion and faith, and
with confidence that the Lord will grant what you ask!
The Little Flower Votive Candles, Rosaries and Chaplets by the Virgo Sacrata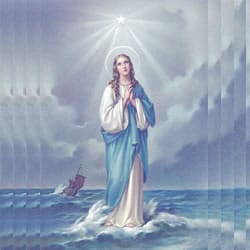 VIRGÓ SACRÁTA is a Christian mission-driven online resource and shop inspired from the beauty of Catholic faith, tradition, and arts. Our mission is to "Restore All Things to Christ!", in continuing the legacy of Pope St. Pius X under the patronage of the Blessed Virgin Mary. "Who is she that cometh forth as the morning rising, fair as the moon, bright as the sun, terrible as an army set in battle array?" O Mary, conceived without sin, pray for us who have recourse to Thee.