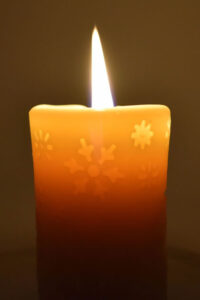 Celebrate that the winter season is upon us with our Christmas Snowflake Beeswax Candle. The exquisite snowflake design glows through while burning and will provide lovely ambience during the winter months. Let yourself enjoy curling up this Holiday season with this beautiful candle!
Our candles are made from 100% pure Canadian beeswax, and cotton wicks. Ingredients that have no carcinogens, solvents, lead, zinc, or any other toxins found in other types of candles.
Tip: Burn this candle for longer sessions so you can enjoy the translucent effect of the snowflake design glowing through.
Bring Light into your home: "All the darkness in the world cannot extinguish the light of a single candle" says Saint Francis of Assisi.
"Again therefore, Jesus spoke to them, saying: I am the light of the world: he that followeth me, walketh not in darkness, but shall have the light of life."
— John 8:12. Douay-Rheims.