A great King am I, says the LORD of hosts,
and my Name will be feared among the nations.
And now, O priests, this commandment is for you:
If you do not listen,
if you do not lay it to heart,
to give glory to my name, says the LORD of hosts,
I will send a curse upon you
and of your blessing I will make a curse.
You have turned aside from the way,
and have caused many to falter by your instruction;
you have made void the covenant of Levi,
says the LORD of hosts.
I, therefore, have made you contemptible
and base before all the people,
since you do not keep my ways,
but show partiality in your decisions.
Have we not all the one Father?
Has not the one God created us?
Why then do we break faith with one another,
violating the covenant of our fathers?

— Malachi 1:14b-2:2b, 8-10

---
"For the day is coming, blazing like an oven,
when all the arrogant and all evildoers will be stubble,
And the day that is coming will set them on fire,
leaving them neither root nor branch,
says the Lord of hosts." — Malachi 3:19
Related: THE MOST EVIDENT MARK of God's anger by Saint John Eudes, Doctor of the Church.
The Horror of a Priest in Mortal Sin Giving a Sacrilegious Mass
by St Alphonsus Liguori, Doctor of the Church.
If the Shepherd Becomes a Wolf
Bergoglian Synod on Synodality: An Unprecedented Apostasy by Archbishop Viganò
The Race of Judas is Not Extinct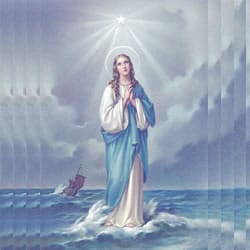 VIRGÓ SACRÁTA is a Christian mission-driven online resource and shop inspired from the beauty of Catholic faith, tradition, and arts. Our mission is to "Restore All Things to Christ!", in continuing the legacy of Pope St. Pius X under the patronage of the Blessed Virgin Mary. "Who is she that cometh forth as the morning rising, fair as the moon, bright as the sun, terrible as an army set in battle array?" O Mary, conceived without sin, pray for us who have recourse to Thee.