Description
Feasts of Our Lady are specific holy days of the liturgical year recognized by Christians as significant Marian days for the celebration of events in the life of the Blessed Virgin Mary and her veneration.
This beautiful CD recording of Gregorian Chant by the Monastic Choir of St. Peter's Abbey of Solesmes is a great gift to anyone who loves our Mother of God. Two Masses of Our Lady plus the four Antiphons to the Holy Virgin in both Solemn and Simple tones celebrate the humble maiden whom all generations call Blessed.
This recording reflects the unmatched authenticity which characterizes the exquisitely gracious and moving performances of Gregorian chant by the Monks of Solesmes.
Sample Audio Tracks
---
Regina Cæli
Salve Regina
Ave Regina Cælorum
---
Gregorian Chants from the Feasts of Our Lady
---
Introit
Gradual
Alleluia
Sequence
Offertory
Communion
Alma
Regina Caeli
Ave Regina Caelorum
Salve Regina
Vultum Tuum
Kyrie IX
Gloria IX
Concupivit
Ave Maria
Recordare
Diffusa Est
Salve Regina
Ave Regina Caelorum
Aima
Regina Caeli
---
Marian Feast Days and Memorials
---
Note: Solemnities and feasts in boldface are the Holy days of obligation. Memorials are in the regular face. There are many more Marian commemorations celebrated in various regions of the world, but not included in the Traditional Roman Calendar.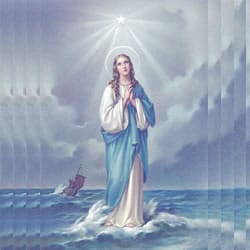 VIRGÓ SACRÁTA is a Christian mission-driven online resource and shop inspired from the beauty of Catholic faith, tradition, and arts. Our mission is to "Restore All Things to Christ!", in continuing the legacy of Pope St. Pius X under the patronage of the Blessed Virgin Mary. "Who is she that cometh forth as the morning rising, fair as the moon, bright as the sun, terrible as an army set in battle array?" O Mary, conceived without sin, pray for us who have recourse to Thee.