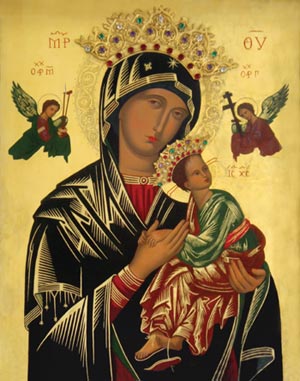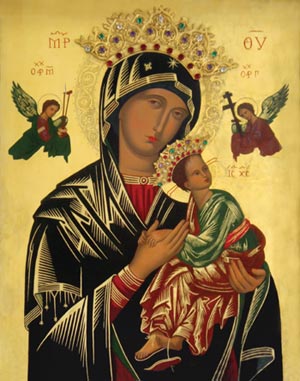 The Meaning of the Picture
A Riddle in Greek
The original picture of Perpetual Help is an icon, done in the Byzantine manner on a tablet of hardwood. Because of its oriental origin, the dark oriental features of Our Lady, its oriental conception of the shining mystery of the Divine Maternity, its appeal is great in China, and India, in Russia and the Levant. But the strangest fact about the picture of Perpetual Help is that it should appeal at all to the Western mind. Accustomed as Europeans and the people of the Americas are to the madonnas of Rafael and Tintoretto, it is all but a surprise that they should find the stiff gold lines, the stylized pose and oriental colors to their taste. The Greek letters in bright red on either side of the picture are a puzzle to anyone who sees this picture for the first time. What is it all about, they inquire!
Explanation
Very simply the red characters are abbreviations for the Greek words: "Mother of God," and "Jesus"; and over the heads of the two archangels on either side of Our Lady are the words: "Michael" on the left, and "Gabriel" on the right. They explain, according to Byzantine usage, the four principal characters in the picture. Fortunately one of the master artists, Andreas Rico de Candia, who made many copies of this original in the thirteenth century, printed a Greek quatrain on some of his icons: a description of the scene portrayed in the picture of Perpetual Help.
Nightmare at Nazareth
It is evening, and the Christ-Child is asleep in the crook of His mother's arm. Suddenly in His dreams, He sees St. Michael and St. Gabriel coming toward Him with the instruments of His future passion and death: a sharp lance, a sponge dripping bitter gall, the dreadful nails and the cross. Frightened He huddles close to His mother, snapping the latchet of His little sandal, so that (in the picture) it dangles from His toe. Like any frightened little boy, He murmurs His mother's name; and Our Lady like any other mother is quick to pat away His fears. But the sad look on Mary's face is indication that she, too, is thinking of the price her little Son must one day pay for our Redemption. She holds Him like a sword to her heart!
Whether this scene be based on unrecorded fact or an artist's sacred fancy . . . who can say! It well might be "a lost verse from the tender Second Chapter of St. Luke" . . . one of the things Our Lady hoarded in her heart.
Mine of Mariology
But apart from its true or fanciful basis, the picture of Perpetual Help is a goldmine of sound Marian theology. It is definitely a Mother of Sorrows, a Strastnaia as this type of icon is called in Russia. Call it a Cradle-pieta: Our Lady grieving not with the dead, but with the living Christ in her arms.
Some of Mary's most sublime prerogatives shine from this miraculous picture. Not only her unspeakable privilege to be Mother of God, the root of all her other glories; but likewise her divine destiny to have an active share in the redeeming work of Christ, and in consequence of that, her exalted office of Dispenser of every Grace that comes from God to man.
Thine Eyes of Mercy
The refined sadness of her eyes tells of her compassion in all things with Christ. But ob¬ serving the picture more closely you note that though her head inclines toward Christ, her eyes are looking out at us. Her compassion extends to all the aching members of the Mys¬ tical Body, whose Head is Christ her first-born Son. It calls to mind our plea in the Salve Regina: "Turn then, most gracious Advocate, thine eyes of mercy toward us", acclaiming her prerogative of Mediatress of all Graces.
In fact, the very name Our Lady gave to this picture: Perpetual Help is synonymous with Mediatress of Graces. For when we call on Mary, begging her to be our Perpetual Help, we thereby imply that we expect her, by her omnipotent intercession to obtain some special Grace from God, and bestow it on us with her own tender hands.
A Pope's Command
Perhaps this was why Pope Pius IX commissioned the Redemptorists as the new custodians of this "ancient and miraculous picture'* to make Perpetual Help known everywhere; and why God in His inscrutable Providence has seen to its phenomenal spread through almost every race and class and country in the world: to inspire the faithful everywhere to put into practice this doctrine of Our Lady's universal mediation, that by their perpetual recourse to her, they may obtain at all times and in every want, the solace of her Perpetual Help.
East and West
We mentioned the surprising fact that this picture so essentially oriental in both style and expression should have an appeal to Christians of the West. Our Western minds tend to conceive Our Lady as clothed in garments of blue and white; yet in the picture of Perpetual Help we find her robed in a tunic of scarlet, with a veil of dark blue lined with green. Though we have St. Jerome's word that these very colors were worn by virgins in Palestine . . . still they clash with our Western concept of Mary. And yet the Western world has taken this Madonna to its heart.
The Eastern world, though mainly torn by schism from the one fold of Christ, still cher¬ ishes this very picture of Perpetual Help even today. Copies are still widespread over Russia. The schismatic Greeks, the Copts in North Africa, the Ukrainian Orthodox venerate this same picture in their churches. And this is a good sign. For through this oriental Madonna, now so beloved by the West, the great Mother of God may yet bring the healing Grace of Reunion of East with Christian West: a hope so dearly cherished by our reigning Pius XII.
The picture of Perpetual Help hangs in a prominent place at the Pontifical Institute of Oriental Studies at Rome, where students from West and East converge to study the problem of Reunion. May it come to pass through Our Lady back, to Christ.
Imprimi Potest: John M. Frawley, C.Ss.R., Provincial Superior.
Nihil Obstat: John M. Fearns, S.T.D., Censor Librorum.
Imprimatur: Francis Cardinal Spellman, Archbishop of New York. July 3, 1950.
Novena to Our Mother of Perpetual Help
---
Imprimi Potest: John M. Frawley, C.SS.R. Provincial Superior
Nihil Obstat: John M. Fearns, S.T.D. Censor Librorum
Imprimatur: Francis Cardinal Spellman Archbishop of New York
June 20, 1948, (Feast of Our Mother of Perpetual Help)
CONTENTS
HISTORY OF THE MIRACULOUS PICTURE | Page 3
ORDER OF NOVENA SERVICES
Hymn (Mother Dear). Page | 5
Opening Prayer. Page | 7
Invocations. Page | 10
Prayer for Perseverance | Page 11
(Sermon)
Act of Consecration | Page 12
Blessings. Page 14
Hymn (O Mother of Perpetual Help) | Page 15
Benediction | 18
Hymn (Mother Dearest) | Page 21
(Veneration of the Picture) (Blessing of Religious Articles)
PRAYERS FOR PRIVATE USE
*
Prayer in Spiritual Wants | Page 22
Prayer in Temporal Wants | Page 23
Prayer for Financial Aid | 24
Prayer in Sickness | Page 25
Prayer for non-Catholics | Page 26
Prayer for Sinners | Page 27
Prayer of St. Alphonsus | Page 28
Memorare | Page 29
ARCHCONFRATERNITY OF OUR MOTHER OF PERPETUAL HELP AND ST. ALPHONSUS | Page 30
Our Mother of Perpetual Help Novena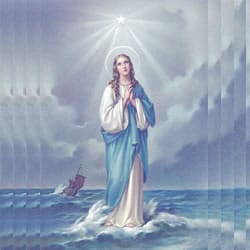 VIRGÓ SACRÁTA is a Christian mission-driven online resource and shop inspired from the beauty of Catholic faith, tradition, and arts. Our mission is to "Restore All Things to Christ!", in continuing the legacy of Pope St. Pius X under the patronage of the Blessed Virgin Mary. "Who is she that cometh forth as the morning rising, fair as the moon, bright as the sun, terrible as an army set in battle array?" O Mary, conceived without sin, pray for us who have recourse to Thee.