Description
This digitally mastered collection of hymns and Masses sung by the Marian Sisters of the Congregation of Mary Immaculate Queen (CMRI) and the Mt. St. Michael Parish Choir is the closest thing to being in the choir loft. The unique CD was recorded nearly 20 years ago on an Otari four track and brings you soprano, alto, tenor and bass voices in unparalleled clarity and warmth. Separate SATB CD's will also be available so choir members can easily learn their separate parts by merely listening.
Most of the music was recorded during the First Masses of several CMRI priests. Altar microphones allow you to hear the Latin prayers of the Mass, the incensation of the altar and even the bells.
Two Masses are featured: Palestrina's Iste Confessor and a TTBB version of the Mass In Honor of Our Lady Queen of the Franciscan Order. Three Palestrina polyphonic (multiple part) compositions and 14 Catholic hymns are also included.
The Latin title: "Bone Pastor" and "Haec Dies" mean the "Good Shepherd" (Jesus Christ) and "This Day" (Easter Sunday).
The devotion and prayerfulness of the choir make this recording something heavenly and thoroughly enjoyable. Since nearly everything was recorded live, there are rare occurrences of slight background noise that is no deterrent to the quality of the CD. This is in contrast to the ideal, sterile conditions found in a recording studio.
It is no small miracle that this music was preserved. The tape even had to be cooked in a convection oven for hours to retain its contents. In spite of the age and natural deterioration of the original tape, the twin priests who made the final mix hope you enjoy this "little bit of Heaven".
High Mass Song Names
Ave Maria — Jacques Arcadelt
2. Ave Maria — Tomas de Victoria
3. Adoro Te — Traditional Anon.
4. Ave Maria O Maiden O Mother — Slovak Hymnal
5. Bone Pastor — Palestrina
6. Dixit Maria — J. Leo Hassler
7. Exultate Deo — Palestrina
8. Haec Dies — Oreste Ravanello
9. Holy God — P. Ritter
10. Jesu Rex Admirabilis — Palestrina
11. Laudate Dominum — C. Ett
12. O Sacrum Convivium — R. Remondi
13. Kyrie Mass OLQFO — Owen Da Silva O.F.M.
14. Gloria Mass OLQFO — Owen Da Silva O.F.M.
15. Credo Mass OLQFO — Owen Da Silva O.F.M.
16. Sanctus Mass OLQFO — Owen Da Silva O.F.M.
17. Benedictus Mass OLQFO — Owen Da Silva O.F.M.
18. Agnus Dei Mass OLQFO — Owen Da Silva O.F.M.
19. Kyrie Mass Iste Confessor — Palestrina
20. Gloria Mass Iste Confessor — Palestrina
21. Sanctus Mass Iste Confessor — Palestrina
22. Benedictus Mass Iste Confessor — Palestrina
23. Agnus Dei Mass Iste Confessor — Palestrina
24. Regina Caeli Jubila — 12 Century Anon.
25. Regina Caeli — Gregor Aichinger
26. Salve Pater Salvatoris — 14 Century
27. Tantum Ergo — Flor Peeters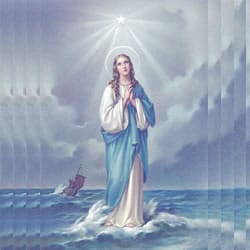 VIRGÓ SACRÁTA is a Christian mission-driven online resource and shop inspired from the beauty of Catholic faith, tradition, and arts. Our mission is to "Restore All Things to Christ!", in continuing the legacy of Pope St. Pius X under the patronage of the Blessed Virgin Mary. "Who is she that cometh forth as the morning rising, fair as the moon, bright as the sun, terrible as an army set in battle array?" O Mary, conceived without sin, pray for us who have recourse to Thee.