Description
Talks on Fifty Feasts of Our Lady, Homilies Throughout the Year with Two Talks for Mother's Day
"Behold a feeble tribute to Our Blessed Mother, an effort to acquaint our people with some of her beauties and graces, her privileges and powers."
With these introductory words, Fr. Arthur Tonne begins this wonderful book devoted to an explanation of the Marian feast days featured in the traditional Roman Missal and observed by some religious congregations or ecclesiastical regions.
Originally published in 1951 as a homiletic aide for priests, this book features 50 feasts of our Lady and 2 additional ones for Mother's Day.
Each chapter devoted to a feast of our Lady is written in Fr. Tonne's engaging style of employing a short story to drive home a spiritual point (open the image gallery to read about the August 2 feast of Our Lady of the Angels).
Fr. Tonne declares:
"When we realize how good Mary has been to us and to the world, when we realize that she is a merciful, powerful and effective Advocate at the throne of God, we will pledge anew our loyalty to her."
This can be accomplished by understanding and celebrating her feast days.
Feasts of Our Lady – Index
Reprinter's Foreword
Author's Biography
Author's Introduction
Our Lady of Prompt Succor
Espousals of Our Lady
Purification
Our Lady of Lourdes
Flight into Egypt
Annunciation
Seven Sorrows
Our Lady of Consolation
Our Lady of Good Counsel
May Crowning
Mediatrix of AH Graces
Queen of the Apostles
Mother's Day
Mother's Day
Our Lady of the Blessed Sacrament
Help of Christians
Our-Lady of the Highway
Queen of All Saints
Our Lady of Fair Love
Most Pure Heart of Mary
Mother of Divine Grace
Our Lady of Perpetual Help
Visitation
Our Lady of Mount Carmel
Humility of Our Lady
Mother of Mercy
Our Lady of the Angels
Our Lady of the Snows
Refuge of Sinners
Assumption
Immaculate Heart of Mary
Seven Joys
Health of the Sick
Mother of the Divine Shepherd
Nativity of Our Lady
Holy Name of Mary
Seven Dolors
Our Lady of Ransom
Holy Rosary
Maternity of Our Lady
Our Lady of Fatima
Purity of Our Lady
Our Lady of Suffrage
Patronage of Our Lady
Mother of Divine Providence
Presentation
Miraculous Medal of Mary Immaculate
Immaculate Conception
Translation of the Holy House of Loreto
Our Lady of Guadalupe
Queen of the Order of Friars Minor ( Franciscan)
Expectation of Our Lady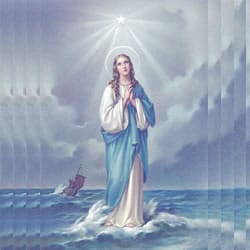 VIRGÓ SACRÁTA is a Christian mission-driven online resource and shop inspired from the beauty of Catholic faith, tradition, and arts. Our mission is to "Restore All Things to Christ!", in continuing the legacy of Pope St. Pius X under the patronage of the Blessed Virgin Mary. "Who is she that cometh forth as the morning rising, fair as the moon, bright as the sun, terrible as an army set in battle array?" O Mary, conceived without sin, pray for us who have recourse to Thee.