Description
Sacred Triduum Missal
---
A traditional missal for Thursday, Friday, and Saturday of Holy Week according to the 1962 rubrics. This book is very helpful if you do not have a 1958 or later missal containing the revised rite of Holy Week of Pope Pius XII. Surprisingly, many people who do have the revised Holy Week in their missal, still like to use the Sacred Triduum Missal because the type is fairly large and the entire rite is laid out so that you do not have to flip back and forth.
The Sacred Triduum Missal contains the entire ceremonies for Holy Thursday evening, Good Friday's Solemn Liturgy and the Paschal Vigil on Holy Saturday; with parallel Latin and English texts and rubrics in red.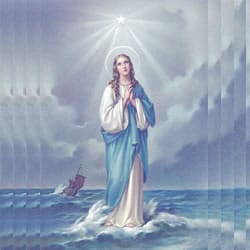 VIRGÓ SACRÁTA is a Christian mission-driven online resource and shop inspired from the beauty of Catholic faith, tradition, and arts. Our mission is to "Restore All Things to Christ!", in continuing the legacy of Pope St. Pius X under the patronage of the Blessed Virgin Mary. "Who is she that cometh forth as the morning rising, fair as the moon, bright as the sun, terrible as an army set in battle array?" O Mary, conceived without sin, pray for us who have recourse to Thee.