Description
Gregorian Chant for Passiontide: Maundy Thursday & Tenebræ of Good Friday with Solesmes (3 CD Set).
Since 1833, the research and study of Gregorian Chant by the Monks of the Abbey of St. Peter in Solesmes, France, has focused on making this sung form of prayer the finest possible offering for God, to whom it is addressed six times a day at the Abbey.
These recordings include the moving Gregorian chants and prayers for the night before Jesus' Passion, when he gave the "mandate" to love one another as he has loved us and includes Ubi caritas and Pange Lingua and the two Gregorian chant offices of Maundy Thursday — the Office of Tenebræ and the Ceremony of Foot-washing. Tenebrae of Good Friday includes all three nocturnes of the office of Matins and the antiphons and psalms of Lauds the Good Friday liturgy of the hours, sung in the dramatic style appropriate to the night before the Savior's Passion.
This set includes 3 CDs:
Maundy Thursday
Christ in Gethsemane
Tenebræ of Good Friday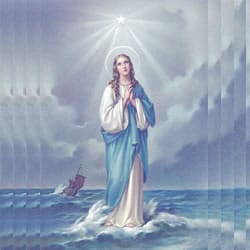 VIRGÓ SACRÁTA is a Christian mission-driven online resource and shop inspired from the beauty of Catholic faith, tradition, and arts. Our mission is to "Restore All Things to Christ!", in continuing the legacy of Pope St. Pius X under the patronage of the Blessed Virgin Mary. "Who is she that cometh forth as the morning rising, fair as the moon, bright as the sun, terrible as an army set in battle array?" O Mary, conceived without sin, pray for us who have recourse to Thee.