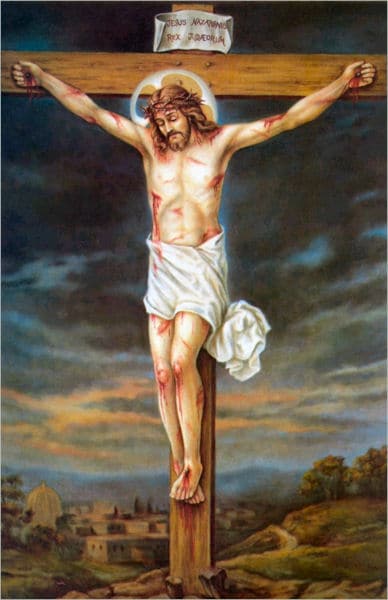 Imagine yourself standing at the foot of the cross on which your Redeemer is suspended, and hear Him cry out in the words of the prophet, " Oh all ye who pass by the way, attend and see if there be any sorrow like to My sorrow." (Lament, i. 12.) Ponder attentively the whole passion in relation to the four principal circumstances, "that you may be able to comprehend with all the Saints what is the breadth, and length, and height, and depth." (Eph. iii. 18.)
I. The Depth.—How ignominious it was! He was suspended aloft in the air, as one unworthy either to live or die on earth. He was condemned at four several tribunals, dragged along the streets, and pointed at as a blasphemer, a seducer, an impostor, a glutton, and an idiot. How can you contemplate this scene and still be so tender of your reputation?
II. The Height.—How grievous His sufferings were! Though His frame and constitution were of a delicate nature, He refused every kind of comfort, both interior and exterior. He was left alone and forsaken by all His friends; " He became a stranger to His brethren, and an alien to the sons of His mother" (Ps. lxviii. 9), i.e., the synagogue. If on the cross He had attempted to court any comfort, the weight of His body pressed the heavier on the wounds of His hands and feet, and increased His torments. If He leaned His head against the cross, the thorns were inserted more deeply in it ; and if He thirsted, His drink was vinegar and gall. Although He suffered more than all the martyrs, His interior pains were more afflicting than those of His body. Good God, what unheard of torments !
III. The Breadth.—How universal were His sufferings! " From the sole of the foot unto the top of the head, there is no soundness therein." (Is. i. 6.) His head was pierced with thorns, His face was buffeted by fists and defiled with spittle, His eyes and lips were swollen, His beard plucked, His shoulders lacerated with stripes, His side pierced with a spear, His hands and feet bored with rough nails; in fine, His whole body was bathed in His own blood. Every interior faculty was also tortured: His memory, His intellect, His will. Fear, indignation, solicitude for those He loved, and other emotions, struggled within Him. " He shall be filled with reproaches." (Lament, iii. 30.)
IV. The Length.—How long His torments lasted! His whole life before had been a continual suffering. "I am poor and in labors from My youth," says He by the royal Psalmist. (Ps. lxxxvii. 16.) The pains, however, which He suffered from His last supper until His expiration, were excruciating and intolerable, and endured all that night, and the day following, for about twenty hours. Contemplate the cruel and loving scene, and express those feelings which condolence and affection suggest.
Source: GOOD FRIDAY: A Summary of Our Lord's Passion chapter from the "Meditations for Every Day in the Year" by Rev. Roger Baxter. This precious book was originally written in 1639, and was used by Chailoner, Walmsly, and other Confessors of the Faith in times of persecution. ✟ JAMES GIBBONS, Archbishop of Baltimore. 1884.
The Seven Last Words of Jesus Christ from the Cross
The Seven Last Words of Jesus Christ from the cross are actually 7 short phrases that Jesus uttered on Calvary. To find all of the seven last words of Jesus Christ, one must read all the gospels since none of the evangelists records all 7 last words. The sayings would have been originally uttered by Jesus in the Aramaic language, but only one of the last seven words of Jesus is preserved for us in the original Aramaic, namely "Eli, Eli, lama sabacthani" or "My God, My God, why have you forsaken me", which is actually a direct quote of the opening verse of Psalm 22. The rest of the seven last words of Jesus are found in the gospels after having been translated into Greek by the four Evangelists. We reproduce them here in Latin as well as English, since the Latin version of the Seven Last Words of Christ has been used so extensively in sacred music.
| | | |
| --- | --- | --- |
| 1. Pater, dimitte illis, quia nesciunt, quid faciunt | Father, forgive them, they know not what they do | Lk. 23: 34 |
| 2. Hodie mecum eris in Paradiso | This day thou shalt be with me in Paradise | Lk. 23: 43 |
| 3. Mulier, ecce filius tuus | Woman, behold thy son | Jn. 19: 26-7 |
| 4. Deus meus, Deus meus, utquid dereliquisti me? | My God, My God, why hast thou forsaken me? | Mk. 15: 34 (Mt. 27: 46) |
| 5. Sitio | I thirst | Jn. 19: 28. |
| 6. Consummatum est | It is finished | Jn 19: 30 |
| 7. In manus tuas, Domine, commendo spiritum meum | Into thine hands, O Lord, I commend my spirit | Lk. 23: 46 |
Short Prayer to the Most Holy Virgin in Her Desolation
His Holiness Pope Pius IX., by a decree of the S. Congr. of Indulgences, of Dec. 23, 1847, deigned to grant –
An indulgence of 100 days to all the faithful, every time they say with contrite heart the following prayer in honour of the most holy Virgin in her desolation. Source: The Raccolta; Or Collection of Indulgenced Prayers.
Ave Maria,
doloribus plena,
Crucifixus tecum:
lacrymabilis te in mulieribus,
et lacrymabilis fructus ventris tui, Jesus.
Sancta Maria, Mater Crucifixi:
lacrymas impertire nobis crucifixoribus Filii tui,
nunc et in hora mortis nostrae.
Amen.
Hail Mary,
full of sorrows,
the Crucified is with thee:
tearful art thou amongst women,
and tearful is the fruit of thy womb, Jesus.
Holy Mary, Mother of the Crucified:
grant tears to us crucifiers of thy Son,
now and at the hour of our death.
Amen.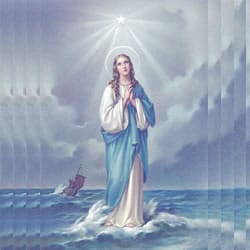 VIRGÓ SACRÁTA is a Christian mission-driven online resource and shop inspired from the beauty of Catholic faith, tradition, and arts. Our mission is to "Restore All Things to Christ!", in continuing the legacy of Pope St. Pius X under the patronage of the Blessed Virgin Mary. "Who is she that cometh forth as the morning rising, fair as the moon, bright as the sun, terrible as an army set in battle array?" O Mary, conceived without sin, pray for us who have recourse to Thee.