Description
Revised under Pope Pius XII, this official collection / Raccolta / of the Church's prayers and devotions was published in English in 1957. It includes a timely supplement of additional prayers for many urgent needs all of which were composed under the same pontiff. Many of the more commonly used prayers and devotions are followed by the Latin text, thus providing the perfect aid for teachers and parents anxious to keep the Church's language both alive and spiritually efficacious. These eight hundred prayers touch practically every spiritual and physical need, and every personal and societal hope. They are the confidently suppliant voice of the Catholic Church in her maternal zeal, joy and agony, nobility and militancy.
THE RACCOLTA, Or Collection of Indulgenced Prayers & Good Works
by Vatican Poenitentiaria apostolica; St. John, Ambrose, 1815-1875
---
PREFACE TO THE SIXTH EDITION – IN MEMORIAM AMBROSE ST JOHN ON INDULGENCES
DECISIONS OF THE SACRED CONGREGATION OF INDULGENCES – STATE OF GRACE
LIST OF ABBREVIATIONS
INSTRUCTIONS
I. THE HOLY TRINITY
1. The Angelic Trisagion
2. Gloria Patri seven times, said by three Persons
3. Mass and Prayers in Thanksgiving for Our Lady's Privileges
4. Gloria Patri thrice
5. Prayers of Thanksgiving for Our Lady's Assumption
6. Three Offerings of Thanksgiving To obtain a Good Death
7. Triduo, or Novena (made at any time in public or private in honour of the Holy Trinity)
8. The Sign of the Cross
9. Thanksgiving on New-Year's Eve
10. Prayer
11. Acts of Adoration and Thanksgiving to the Blessed Trinity
12. Prayer to the Holy Trinity
13. Renewal of Baptismal Vows
II. ALMIGHTY GOD
14. Acts of Faith, Hope and Charity
15. Chaplet of Acts of the Love of God
16. Prayer
17. Prayer of St Francis Xavier for the Conversion of Infidels
18. Prayer for Peace
19. Offerings for the Beginning of the Day and for Mass
20. An Offering
21. A Morning Offering
22. An Act of Faith
23. Prayer of St Bonaventure
24. Prayer
25. Prayer of St Ignatius
26. Prayer
27. Prayer
28. Prayer for the Supreme Pontiff
29. Ejaculation of Resignation to the Will of God
30. Ejaculation
31. Invocation
32. Ejaculation
33. Ejaculation
34. Ejaculation
III. THE HOLY GHOST
35. The Hymn and Sequence
36. Novena of the Holy Ghost
37. Novena for Pentecost
38. Gloria Patri seven times
39. Prayer for the Church
40. Prayer for the Propagation of the Faith
41. Veni Sancte Spiritus, reple, etc
42. Chaplet of the Holy Spirit
43. Prayer to the Holy Spirit
IV. JESUS CHRIST
44. Rosary of Our Lord
45. Invocation of the Holy Name
46. Hymns and Psalms in Honour of the Holy Name
47. Prayer for a Holy Death
48. Prayer
49. Prayer
50. Prayer
51. Prayer of St Thomas Aquinas
52. Prayer of St Thomas Aquinas
53. Petitions of St Augustine
54. Prayer for the Conversion of Scandinavia
55. Devotion to the Holy Name
56. Litany of the Holy Name of Jesus
57. Prayer for Grace to do the Will of God
58. Prayer for the Preservation of Faith
59. Prayer for the Love of God
60. Prayer in Honour of the Holy Family
61. Ejaculation
62. Ejaculation of St Jerome Emilian
63. Ejaculation
64. Ejaculation
65. Ejaculation
66. Ejaculation
67. Ejaculation
68. Prayer to Jesus our Redeemer
69. Invocation
70. Prayer for the Conversion of Sinners
71. Prayer to our Lord
72. Prayer to Jesus, Lover of Children
V. THE CHILD JESUS
73. Christmas Day. To all who say or assist in Church at the Divine Office
74. Novena for Christmas
75. Mysteries of the Holy Childhood
76. Novena for the Twenty-fifth Day of every Month
77. Prayer before the Crib
78. Prayer
79. The Month of January
80. Novena for Corpus Christi
81. Feast and Octave of Corpus Christi
82. Triduo on Friday, Saturday and Sunday, during the Octave of Corpus Christi42
83. Corpus Christi
84. Act of Adoration during the Elevation
85. Frequent Communion
86. Visit during the Forty Hours Exposition
87. Visit during Exposition between Septuagesima Sunday and Ash Wednesday
88. Prayers before the Blessed Sacrament
89. Acts of Adoration and Reparation
90. Act of Reparation and Ejaculations
91. One Hour s Prayer on Holy Thursday, Corpus Christi, and other Thursdays
92. Visit to the Holy Sepulchre on Holy Thursday and Good Friday45
93. Prayer
94. The Hymn Pange Lingua, with Versicle and Prayer
95. Invocations46
96. Prayer of St Alphonsus Liguori, to be said at a Visit to the most Holy Sacrament
97. Prayer
98. Visit to the Blessed Sacrament, with Pater, Ave, and Gloria five times, and Pater, Ave, and Gloria once for the intention of the Pope
99. Prayer for a Visit
100. Following the Blessed Sacrament
101. Following the Blessed Sacrament to the Sick
102. Prayer to be said during the Elevation in the Mass
103. Ejaculation
104. Act of Spiritual Communion of Saint Alphonsus Liguori
105. Act of Homage to Christ, our God and our King
106. Hymn of St Thomas Aquinas
107. Prayer
108. Ejaculation
109. Ejaculation after Mass
110. First Communicants and their Friends
111. Prayer for the Increase of Daily Communion
112. Prayer to our Lady of the Blessed Sacrament
113. Prayer to our Lord in the Blessed Sacrament
114. Prayers during a Procession of the Blessed Sacrament
115. Prayer to be said at the Beginning of Mass
116. Ejaculation
VII. JESUS CRUCIFIED
117. The Stations of the Cross
118. Chaplet of the Stations of the Gross
119. The "Scala Santa" in Rome
120. Pious Exercise on Fridays
121. Devotions in Honour of the Five Wounds
122. Devotion of the Seven Words
123. The Three Hours on Good Friday and any other Friday
124. Devotion for Lent
125. The Prayer, Deus, qui pro Redemptione, etc
126. Chaplet of the Five Wounds
127. Prayer, En Ego
128. Prayers of St Pius V, with the Apostles Creed five times
129. Invocation of St Thomas Aquinas to the Cross
130. Prayers of St Clare of Assisi
131. Hymn, Vexilla Regis
132. Prayer to Our Lord scourged at the Pillar
133. Ejaculation
134. Invocation
135. Prayer to Our Lord on the Cross
136. Prayer to Jesus Dead
137. Prayer for a Happy Death
VIII. THE PRECIOUS BLOOD
138. Chaplet of the Precious Blood
139. Pray
140. Devout Aspirations
141. Seven Offerings, in reparation for all the outrages received by Our Lord in the Precious Blood
142. Act of Oblation in thanksgiving for blessings received
143. Month consecrated to the Precious Blood
144. Prayer to Jesus of Nazareth
145. Ejaculation
146. Offering
IX. THE SACRED HEART
147. Visit to a Representation of the Sacred Heart, exposed for public veneration
148. Act of Oblation to be made before a Representation of the Sacred Heart
149. Acts of Devotion
150. Chaplet
151. Visit to any Church or Public Oratory where the Feast of the Sacred Heart is being kept
152. Novena of the Sacred Heart
153. Prayer for those in their agony
154. Month of June
155. Acts of Homage to the Eucharistic Heart of Jesus
156. Daily Act of Oblation
157. Act of Consecration of B. Margaret Mary
158. Devotions for Fridays
159. Ejaculation
160. Ejaculation
161. Ejaculation
162. Ejaculation
163. Ejaculation
164. Ejaculation
165. Litany of the Sacred Heart
166. Prayer to the Sacred Hearts of Jesus and Mary for the Conversion of Jews and Turks
167. Prayer
168. Ejaculation
169. Little Office of the Sacred Heart
170. Prayer to the Eucharistic Heart
171. Prayer to the Sacred Heart
172. Consecration of the Family to the Sacred Heart
173. Prayer to the Sacred Heart
174. Ejaculation
175. Ejaculation
176. Ejaculation
177. Ejaculation
178. Ejaculation
179. Ejaculation
180. Ejaculation of B. Margaret Mary
X. MARY
A. GENERAL
181. The Rosary of St Bridget
182. The Angelus and Regina Coeli
183. Invocation of the Name of Mary
184. The Salve Regina and Sub Tuum Præsidium
185. Prayers of St Alphonsus Liguori for everyday of the Week, with Ave Maria thrice
186. Month of May
187. Psalms in Honour of the Name of Mary
188. Twenty-five Days Preparation for the Nativity, after the example of St Catharine of Bologna
189. The Litany of Loreto
190. Prayer of St Alphonsus
191. Three Offerings
192. Prayer, with Ave Maria, thrice, etc
193. Prayer, O Excellentissima
194. Prayer
195. The Crown of Twelve Stars
196. The Memorare
197. Prayer, Ave Augustissima
198. The Tota Pulchra, etc
199. Five Novenas for the Principal Feasts of Our Lady
200. Eleven Novenas in Honour of Our Lady
201. One Ave and Prayer, O Domina Mea! for Victory in Temptations, especially those against Chastity99
202. Prayer, O Beata Virgo
203. Prayer of St Alphonsus to be said before a representation of Our Lady
204. Prayer for a Good Death
205. Psalms and Prayers of St Bonaventure for every day in the week
206. Chaplet of the Twelve Privileges of Our Lady
207. Prayer for the Conversion of Heretics and Schismatics
208. Prayer for the Conversion of Greek Schismatic's
209. Act of Reparation
210. Prayer
211. Prayer
212. Office of the Blessed Virgin
213. Hymn, Ave Maris Stella
214. Reparation for Blasphemy against Our Lady
215. The Magnificat
216. Prayer of St Aloysius Gonzaga
217. Prayer for England
218. Prayer for Reunion
219. Aspiration
220. Ejaculation
221. Three Invocations with Ave thrice
222. Ejaculation of St Philip Neri
223. Chaplet of the Seven Joys of Our Lady
224. Ejaculation
225. Ejaculation
226. Ejaculation
227. Ejaculation
228. Prayer to Our Lady
229. Prayer to Our Lady
B. MARY SORROWING
230. The Rosary of the Seven Dolours
231. One Hour's Prayer
232. Devotions in honour of the Sorrowful Heart of Mary
233. Devotions for Holy Week and Fridays
234. Ave Maria, etc., seven times
235. Devotions during the Carnival
236. Stations of Our Lady's Dolours
237. The Month of September
238. Hymn, Stabat Mater
239. Prayer
240. Prayer
C. MARY IMMACULATE
241. Chaplet of the Immaculate Conception
242. Seven Sundays in Honour of the Immaculate Conception
243. The Little Office of the Immaculate Conception
244. Antiphon, Versicle and Prayer
245. Ejaculation
246. Ejaculation
247. Ejaculation
248. Ejaculation
249. Invocation
250. Invocation
E. OUR LADY OF THE ROSARY
260. The Rosary blessed by Canons Regular of St Augustine of the Order of the Holy Cross
261. The Rosary of St Dominic
262. The Month of October
263. Prayer
264. The Fifteen Saturdays
265. Our Lady of the Rosary of Pompeii
266. Prayer to Our Lady of the Rosary
F. VARIOUS TITLES OF OUR LADY
267. Prayer to Our Lady of Pity
268. Prayers to Our Lady of Perpetual Succour
269. Prayer to Our Lady of Good Counsel
270. Prayer to Our Lady of Mount Carmel
271. Prayer to Our Lady, Mother of Divine Providence
272. Prayer to Our Lady of the Coenaculum
273. Prayer to Our Lady Help of Christians
274. Prayer to Our Lady Help of Christians
275. Prayer to Our Lady of Africa for the Conversion of the Mussulmans and other Infidels
276. Invocation to be said Morning and Evening
277. Prayer to Mary our Helper
278. Prayer to Our Lady, Queen of Prophets
279. Prayer to Our Lady, Mother of Confidence
280. Prayer to Our Lady of Lourdes
281. Ejaculation
282. Prayer to Our Lady "Reparatrice."
283. Prayer to Our Lady of Lourdes for a Sick Person
284. Our Lady of Ransom
285. Seven Saturdays of Our Lady of Ransom
286. Ejaculation to Our Lady "del Pilar" of Saragossa
XI. THE HOLY ANGELS
ST MICHAEL ARCHANGEL
289. Hymn, Antiphon, etc
290. Novena of St Michael
291. Angelical Crown
292. Prayer to St Michael
293. Antiphon
ST GABRIEL AND ST RAPHAEL
294. Novena
295. Prayer
THE GUARDIAN ANGEL
296. Invocation
297. Novena of the Guardian Angel
XII. ST JOSEPH
298. Responsory, Antiphon, etc
299. Psalms in honour of the Name of St Joseph
300. Seven Sorrows and Seven Joys
301. Novena of St Joseph
302. Month of March
303. Prayer
304. Prayer
305. Prayer to St Joseph, Patron of the Universal Church
306. Prayer
307. Prayers for those in their Agony
308. Prayer
309. Prayer of St Bernadine of Siena
310. Invocation
311. Invocation
312. Ejaculation
313. Prayer for the Observance of Sundays and Feast Days
314. Prayer to St Joseph
315. Prayer to St Joseph
XIII. VARIOUS SAINTS
ST JOACHIM
316. Prayer
317. Prayer
318. Prayer
ST ANNE
319. Prayer
SS. PETER AND PAUL
320. Prayer
321. Responsory of St Peter
322. Responsory of St Paul
323. Veneration of St Peter's Statue
ST JOHN, APOSTLE & EVANGELIST
325. Prayer
ST EMIGDIUS, BISHOP & MARTYR
326. Prayer
327. Invocation
ST CHALCEDONIUS, MARTYR
328. Prayer
ST GREGORY VII
329. Prayer
ST PIUS V
330. Hymn
ST NICHOLAS OF BARI
331. Prayer
ST ALPHONSUS LIGUORI
332. Prayer
ST LOUIS OF TOULOUSE
333. Prayer
ST DOMINIC
334. Prayers
ST FRANCIS OF ASSISI
335. The Five Sundays
336. Hymn
337. Feast of St Francis
THE SEVEN HOLY FOUNDERS OF THE SERVANTS OF MARY
338. Prayer
339. Seven Prayers
ST JOHN OF MATHA
340. Prayer
ST FRANCIS OF PAOLA
341. The Thirteen Fridays in honour of Christ and his Twelve Apostles
ST IGNATIUS LOYOLA
342. The Ten Sundays
343. Prayer
ST PHILIP NERI
344. Prayers for every Day of the Week
345. Prayer
ST JOSEPH CALASANCTIUS
346. Prayer
ST CAMILLUS OF LELLIS
347. The Seven Sundays
348. Prayer
ST VINCENT OF PAUL
349. Novena
350. Prayer
ST PAUL OF THE CROSS
351. Prayer
352. Novena
ST PETER FOURIER
353. Prayer
ST THOMAS AQUINAS
354. Prayer to St Thomas, Patron of Schools
355. Little Office of St Thomas Aquinas
356. The Six Sundays
357. Invocation, before Lecture or Study
ST ANTHONY OF PADUA
358. Responsory
359. Pater, Ave, and Gloria, thirteen times, in honour of the Saint
360. St Anthonys Bread. Prayer
361. St Anthony's Bread. Thanksgiving
362. The Thirteen Tuesdays, or Sundays
363. Prayer to St Anthony
ST VINCENT FERRER
364. Prayer
ST JOHN OF THE GROSS
365. Prayer
ST ANDREW AVELLINO
366. Prayers
ST MICHAEL DE SANTI
367. Prayer
ST ANTHONY, ABBOT
368. Prayer
ST ALOYSIUS GONZAGA
369. Feast Day
370. The Six Sundays
371. Prayer
372. Act of Consecration
ST STANISLAUS KOSTKA
373. Feast Day. Ten Sundays, etc
374. Prayers
ST JOHN BERCHMANS
375. The Five Sundays
ST BENEDICT JOSEPH LABRE
376. Prayer
ST LUCY, VIRGIN AND MARTYR
377. Prayers
378. Prayer to St Lucy
ST AGNES, V.M
379. Prayer
380. Prayers
ST BARBARA, VIRGIN
ST JULIANA FALGONIER
382. Prayer
ST THERESA, VIRGIN
383. Prayer of St Alphonsus
ST MARY SALOME
384. Prayer
ST ELIZABETH OF HUNGARY
385. Prayer
ST MARGARET OF CORTONA
386. Prayer
387. Prayer to St Blaise
ST STEPHEN
388. Antiphon and Prayer
ST JOHN THE BAPTIST
389. Prayers
ST FRANCIS XAVIER
390. Novena in honour of the Saint
ST PAUL OF THE CROSS
391. Prayer
ST RITA
392. Prayer
ST JOHN DE LA SALLE
393. Prayer
SS. BRIDGETT AND CATHARINE OF SWEDEN
394. Prayers
ST CATHARINE OF ALEXANDRIA
395. Prayers for the Promotion of Studies
396. BLESSED FRANGUS, Carmelite Confessor
XIV. BLESSED CROSSES, CRUCIFIXES, ROSARIES, MEDALS, etc., FROM THE HOLY LAND
397
XV. THE DYING AND THE APOSTOLIC BLESSING
398. Praying for the Dying
399. Offering of Masses for the Dying
400. The Apostolic Blessing
401. Plenary Indulgence in Articulo Mortis
XVI. THE FAITHFUL DEPARTED
402. The Office of the Dead
403. The Heroic Act
404. The De Profundis
405. Holy Week
406. Pater and Ave five times, etc
407. All Souls Day
408. Prayers
409. Prayers for Nine or Seven Days
410. League of Perpetual Suffrage
411. Month of November
412. Devotion to the Five Wounds
413. Prayers
414. Prayer for the Dead
415. VV. & RR. for the Dead
XVII. MISCELLANEOUS
416. Visits to the Churches of the Stations
417. Visit to the Seven Churches and the Seven Privileged Altars
418. The Portiuncula
419. The Gradual or Penitential Psalms
420. Christian Doctrine
421. Mental Prayer
422. Explanation of the Gospel
423. Prayer after saying Office
424. Prayers to be said after the Sacrosanctæ
425. Prayer for the Conversion of the Dutch
426. The Divine Praises
427. Ejaculations for a Happy Death
428. Beati Mortui, etc
429. Prayer for those in their Agony
430. Visiting the Sick in Hospitals
431. Almsgiving
432. Prayer for Deaf-Mutes
433. Propagation of the Faith
434. Against an Unprovided Death
435. Ejaculation
436. In Honour of the Blessed Trinity, etc
437. Spiritual Canticles
438. Prayer, with Ejaculation
439. Prayers for a Happy Death
440. Invocations and Petitions
441. Prayers in Times of Calamity
442. Prayers for the Conversion of Japan
445. Prayer of St Benedict Joseph Labre for Times of Necessity
446. Prayers for Purity
447. Temperance Pledge
453. Christian Acts
454. Assisting at a First Mass
455. Prayer of St Thomas Aquinas for grace to lead a holy life
456. Prayer in Times of Calamity
457. Prayer for the Christian Family
458. Prayers to the Holy Family
459. Prayer for Benefactors
463. Prayer for the Sanctification of Priests
464. Two Prayers for the Increase and Preservation of the Clergy
465. For Clerics and Students putting on a Cotta
FOR SPECIAL CLASSES
I. FOR PRIESTS
466. Intention before Mass
467. Prayer after Mass
468. Prayer to St Joseph, before Mass
469. Prayer to our Lady before Mass
470. Preparation and Thanksgiving
471. Prayer before Hearing Confessions
472. Prayers before and after Confession
473. First Mass
II. FOR PRIESTS AND OTHERS IN SACRED ORDERS
474. Prayer to our Lord
475. Ejaculation
476. Prayer for the Preservation of Chastity
III. FOR YOUNG STUDENTS
477. Consecration of Studies to Mary Immaculate
478. Prayer in Choosing a State of Life
479. Prayer for one aspiring to the Priesthood
480. Prayer to Our Lady
481. Prayer for Children in Purgatory
APPENDIX
482. Prayer for the Conversion of Freemasons
483. Pious Reading of the Gospel
484. Prayer to the Sacred Heart for Pope Pius X
485. Prayer to the Queen of Angels by the Ven. Louis Edward Gestac
486. Ejaculation to the Sacred Heart
487. The Twelve Saturdays immediately preceding the Immaculate Conception
488. Prayer to St Paul
489. Litany of St Joseph
490. Medals of the Child JESUS
491. Kissing the Ring of a Cardinal or Bishop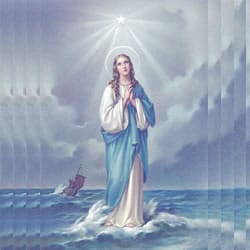 VIRGÓ SACRÁTA is a Christian mission-driven online resource and shop inspired from the beauty of Catholic faith, tradition, and arts. Our mission is to "Restore All Things to Christ!", in continuing the legacy of Pope St. Pius X under the patronage of the Blessed Virgin Mary. "Who is she that cometh forth as the morning rising, fair as the moon, bright as the sun, terrible as an army set in battle array?" O Mary, conceived without sin, pray for us who have recourse to Thee.