Description
This small book tells of the life and many miracles of St Benedict, the founder of the Benedictine Order. The stories in this book are based on real interviews conducted by St. Gregory the Great with the monk who knew St. Benedict. Very interesting to read, this book will help Catholics understand theology and the purpose of miracles, mercy and grace. 
Pope St. Gregory I ( The Great ) was born circa 540 to a noble and wealthy Roman family, with the birth name of Gregorius. After enjoying the monastic lifestyle, which he possessed a deep respect for, Gregory was elected pope in 590, though he mourned the loss of the happiness he had enjoyed as a monk. During his term of papacy he was instrumental in various liturgical reforms, and also authored such works as The Life of St. Benedict, Dialogues, Commentary on Job, and The Rule for Pastors. Pope Gregory the Great died on the twelfth of March, 604.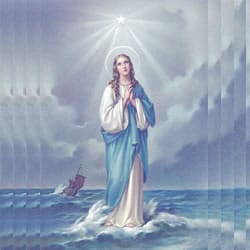 VIRGÓ SACRÁTA is a Christian mission-driven online resource and shop inspired from the beauty of Catholic faith, tradition, and arts. Our mission is to "Restore All Things to Christ!", in continuing the legacy of Pope St. Pius X under the patronage of the Blessed Virgin Mary. "Who is she that cometh forth as the morning rising, fair as the moon, bright as the sun, terrible as an army set in battle array?" O Mary, conceived without sin, pray for us who have recourse to Thee.