Description
The father of organized Western monasticism is celebrated with Mass and Office Gregorian chants as well as organ music played on the Grandes orgues at Solesmes. This recording reflects the unmatched authenticity which characterizes the exquisitely gracious and moving performances of Gregorian chant by the Monks of Solesmes.
"The success of Gregorian chant in the past century, and the centered richness of prayer it brings to all of us, is almost singularly due to the herculean efforts of the Benedictine Monks of Solesmes, France." —New Liturgical Movement
Saint Benedict – Gregorian Chant CD Sample Audio
Alleluia VIR DEI BENDICTUS
Antiphon SANCTISSIME
HODIE  SANCTUS BENEDICTUS
Saint Benedict Gregorian Chant CD Titles
1. Jean Langlais, Priere (organ)
2. Intorit GAUDEAMUS (mode 1)
3. Gradual DOMINE PRAEVENISTI (mode 4)
4. Alleluia VIR DEI BENDICTUS (mode 6)
5. Sequence LAETA DIES (mode 6)
6. Communion SEMEL IURAVI (mode 4)
7. Hymn CLARIS CONIUBILA (mode 3)
8. J.S. Bach, Lied, Herr Jesu, ws fur seelenweh (BWV 487) (organ)
9. J.S. Bach, Chorlae, Ich ruf zu dir (BWV 63)(organ)
10. Introit OS IUSTI (mode 6)
11. Alleluia IUSTUS UT PALMA (mode 4)
12. Offertory DESIDERIUM (mode 6)
13. Communion FIDELIS SERVUS (mode7)
14. Lauds Antiphons
15. Antiphon SANCTISSIME (mode 4)
16. Antiphon O CAELESTIS NORMA (mode 1)
17. Antiphon HODIE  SANCTUS BENEDICTUS (mode 2)
18. Henri Dumont (1619-1684), Pavane in d minor (organ)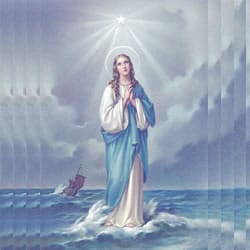 VIRGÓ SACRÁTA is a Christian mission-driven online resource and shop inspired from the beauty of Catholic faith, tradition, and arts. Our mission is to "Restore All Things to Christ!", in continuing the legacy of Pope St. Pius X under the patronage of the Blessed Virgin Mary. "Who is she that cometh forth as the morning rising, fair as the moon, bright as the sun, terrible as an army set in battle array?" O Mary, conceived without sin, pray for us who have recourse to Thee.