Description
Learning the New Breviary: An explanation of the reformed (1960) code of rubrics that comprise the traditional (1962) "Breviarium Romanum".
The title word "new" is rather misleading today, as it actually refers to the new code of rubrics promulgated in July 1960 for the traditional Roman Breviary. In this handy, concise and easy-to-read book, Fr. Hausmann leads the reader step by step through each of the 8 canonical hours, their contents, special particulars, and how they are said, all the while providing important tips on how to recite the Divine Office (Divinum Officium) with a correct liturgical spirit.
Roman Breviary of the Council of Trent by Pope St. Pius V
---
The Council of Trent, in its final session on 4 December 1563 entrusted the reform of the breviary to the then pope, Pius IV. On 9 July 1568, Pope Saint Pius V, the successor to Pius IV who closed the Council of Trent, promulgated an edition, known as the Roman Breviary, with his Apostolic Constitution "Quod a Nobis", imposing it in the same way in which, two years later, he imposed the Roman Missal and using language very similar to that in the bull "Quo Primum" with which he promulgated the Missal. For instance, the perpetual force of its provisions, the obligation to use the promulgated text in all places, and the total prohibition of adding or omitting anything, declaring in fact:
"No one whosoever is permitted to alter this letter or heedlessly to venture to go contrary to this notice of Our permission, statute, ordinance, command, precept, grant, indult declaration, will decree and prohibition. Should anyone, however, presume to commit such an act, he should know that he will incur the wrath of Almighty God and of the Blessed Apostles Peter and Paul."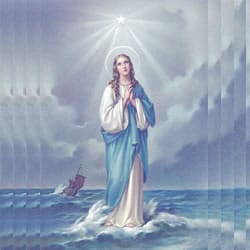 VIRGÓ SACRÁTA is a Christian mission-driven online resource and shop inspired from the beauty of Catholic faith, tradition, and arts. Our mission is to "Restore All Things to Christ!", in continuing the legacy of Pope St. Pius X under the patronage of the Blessed Virgin Mary. "Who is she that cometh forth as the morning rising, fair as the moon, bright as the sun, terrible as an army set in battle array?" O Mary, conceived without sin, pray for us who have recourse to Thee.