Description
Traditional Roman Breviary – 1962 Breviarium Romanum
The recitation of the Divine Office should be at the heart of every Catholic, cleric (particularly those in major orders) and laity alike. Join the Church in one of her richest liturgical treasures, and (with the Holy Sacrifice of the Mass) her official form of prayer that daily entreats the Holy Trinity, the Blessed Virgin Mary, and honors the Angelic Choirs and the Saints of God.
A completely new typeset and high-quality printing of the traditional (Latin-only) ROMAN BREVIARY according to the 1962 typical edition.
This Latin Vulgate edition has the psalms arranged in a single column.
This high-quality breviary features throughout red and black text printed on natural-colored bible paper, bound in smooth grained flexible imitation black leather. Four multi-colored marking ribbons tops off this 3,398 page set of two volumes.
3,398 pp. Gold, gilded edges, durable flexible imitation leather cover.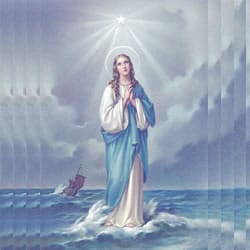 VIRGÓ SACRÁTA is a Christian mission-driven online resource and shop inspired from the beauty of Catholic faith, tradition, and arts. Our mission is to "Restore All Things to Christ!", in continuing the legacy of Pope St. Pius X under the patronage of the Blessed Virgin Mary. "Who is she that cometh forth as the morning rising, fair as the moon, bright as the sun, terrible as an army set in battle array?" O Mary, conceived without sin, pray for us who have recourse to Thee.