Description
The St Andrew Daily Missal is fully traditional Latin-English hand-missal available in print for laypeople. This is Dom Gaspar Lefebvre's [not to be confused with Archbishop Marcel Lefebvre] edition of The Saint Andrew Daily Missal with Vespers for Sundays and Feasts and Kyriale. It is the most complete traditional missal in print." As quoted from one of the most widely read traditional Catholic web sites.
The St Andrew Daily Missal is the original 1945 reprint without revisions. One of the most popular Tridentine missals. Throughout the missal there is Latin and English text side-by-side. The Ordinary of the Mass contains the rubrics, printed in red, which the priest follows while offering the Mass. Each feast has a brief narrative of the Saint for the day. The missal also includes Vespers for Sundays and other feast days.
Please note that several Mass changes after 1945, especially the major changes for Holy Week are not in this version. St Andrew missal has by far the most accurate/detailed information and explicit explanations for various masses, holy days etc. St Andrew Missal has another great "plus" in that it has beautiful explanations and commentary before each and every Sunday's liturgy, as well as for those of the special Feast Days.
 The St Andrew Daily Missal
---
Reprint of the 1945 edition
Complete with Vespers and the Kyriale
A beautiful narrative of each feast day for the Liturgical year
Special section devoted to the Sacraments (in English with Latin along side)
Five liturgically-colored ribbons.
 Over 1900 pages
Hardcover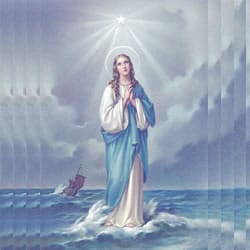 VIRGÓ SACRÁTA is a Christian mission-driven online resource and shop inspired from the beauty of Catholic faith, tradition, and arts. Our mission is to "Restore All Things to Christ!", in continuing the legacy of Pope St. Pius X under the patronage of the Blessed Virgin Mary. "Who is she that cometh forth as the morning rising, fair as the moon, bright as the sun, terrible as an army set in battle array?" O Mary, conceived without sin, pray for us who have recourse to Thee.