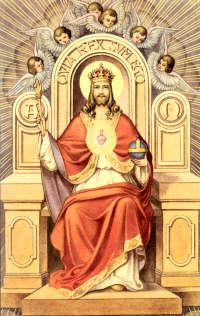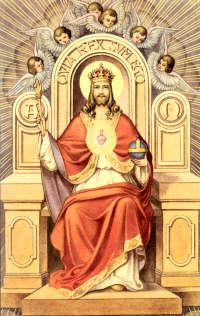 Please keep these prayers to Christ the King with you, and pray for the Kingship of Our Lord Jesus Christ and for Queenship of Mary His Mother Most Holy in our lives and in the world.
"All power is given UNTO ME in heaven and in earth."–MATT.28:18.

O CHRIST, JESUS,
I acknowledge Thee as Universal King.
For Thee all creatures have been made.
Do Thou exercise over me
all the rights that Thou hast.

Renew my Baptismal Vows,
I renounce Satan,
with all his works and pomps,
including all modern heresies
and errors of the Conciliar Church,
and I promise to live as a good Catholic:
Especially, do I pledge myself,
by all the means in my power,
to bring about the triumph of the
rights of God and of Thy Church.

Divine Heart of Jesus,
I offer Thee all my poor actions to obtain
that all hearts may recognize Thy Sacred Royalty,
and that thus the reign of Thy Peace
may be established throughout the entire world.
Amen.


Domine Iesu Christe, Rex gloriae
| | |
| --- | --- |
| DOMINE Iesu Christe, Rex gloriae, libera animas omnium fidelium defunctorum de poenis inferni et de profundo lacu; libera eas de ore leonis, ne absorbeat eas tartarus, ne cadant in obscurum; sed signifer sanctus Michael repraesentet eas in lucem sanctam, quam olim Abrahae promisisti et semini eius. Amen. | O LORD Jesus Christ, King of glory, deliver the souls of all the faithful departed from the pains of hell and from the bottomless pit; deliver them out of the lion's mouth, lest hell should swallow them up, lest they fall into the outer darkness; but let Thy standard-bearer, Saint Michael, bring them back into Thy holy light, which Thou didst promise of old to Abraham and to his seed. Amen |
The Roman Missal
Domine Deus Omnipotens Rex Regum
| | |
| --- | --- |
| DOMINE Deus Omnipotens, Rex regum et Dominus dominantium, in cuius manu omnis victoria consistit et omne bellum conteritur, concede mihi ut tua manus cor meum corroboret ut in virtute tua in manibus viribusque meis bene pugnare viriliterque agere valeam ut inimici mei in conspectu meo cadent et corruant sicut corruit Golias ante faciem pueri tui David, et sicut populus Pharaonis coram Moysi in mare rubro, et sicut Philistini coram populo Israel cecidi1 sunt, et Amalech coram Moysi et Chananei coram Iesu corruerunt, sic cadant inimici mei sub pedibus meis, et per viam unam conveniant adversum me et per septem fugiant a me; et conteret Deus arma eorum et confringet framea eorum, et liquescent in conspectu meo sicut cera a facie ignis ut sciant omnes populi terrae quia invocatum est nomen Domini nostri Iesu Christi super me et magnificetur nomen tuum Domine, in adversariis meis, Domine Deus Israel. | O LORD God Almighty, King of kings, Lord of rulers, in whose hand all victory rests and all war is destroyed, grant me that Thy hand may strengthen my heart so I may fight well and act courageously so my enemies may fall before my sight. May they fall as did Goliath fall before Thy servant David, as did the people of the Pharaoh in the Red Sea before Moses, as did the Philistines before the people of Israel, as did Amalech before Moses, and as did the Canaanites before Joshua, so may my enemies fall beneath my feet. May all who come against me be dispersed and God destroy their weapons and shatter their swords. They will melt in my sight as wax in the face of fire so all the peoples of the earth will know that the name of our Lord Jesus Christ has been invoked over me. May Thy Name, O Lord, be made great over my adversaries, O Lord, God of Israel. |
From an 11th century manuscript. A Pre-Conquest English Prayer-Book.
Medieval Studies at The University of Melbourne.
Laudes Regiæ
Laudes Regiæ is an ancient hymn which dates back to 1080. It was sung at the closing of the Council called by order of William the Conqueror. Gregory VII was Pope and Philip I King of France.
O Jesus, Living in Mary
O Jesus, living in Mary,
Come and live in Thy servants,
In the spirit of Thy holiness,
In the fullness of Thy might,
In the truth of Thy virtues,
In the perfection of Thy ways,
In the communion of Thy mysteries.
Subdue every hostile power
In Thy spirit, for the glory of the Father. Amen.
(St. Louis de Montfort)
Prayer to Defeat the Work of Satan
O Divine Eternal Father, in union with your Divine Son and the Holy Ghost, and through the Immaculate Heart of Mary, I beg You to destroy the Power of your greatest enemy — the evil spirits. Cast them into the deepest recesses of hell and chain them there forever! Take possession of your Kingdom which You have created and which is rightfully yours.
Heavenly Father, give us the reign of the Sacred Heart of Jesus and the Immaculate Heart of Mary.
I repeat this prayer out of pure love for You with every beat of my heart and with every breath I take.
Amen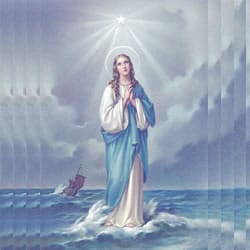 VIRGÓ SACRÁTA is a Christian mission-driven online resource and shop inspired from the beauty of Catholic faith, tradition, and arts. Our mission is to "Restore All Things to Christ!", in continuing the legacy of Pope St. Pius X under the patronage of the Blessed Virgin Mary. "Who is she that cometh forth as the morning rising, fair as the moon, bright as the sun, terrible as an army set in battle array?" O Mary, conceived without sin, pray for us who have recourse to Thee.