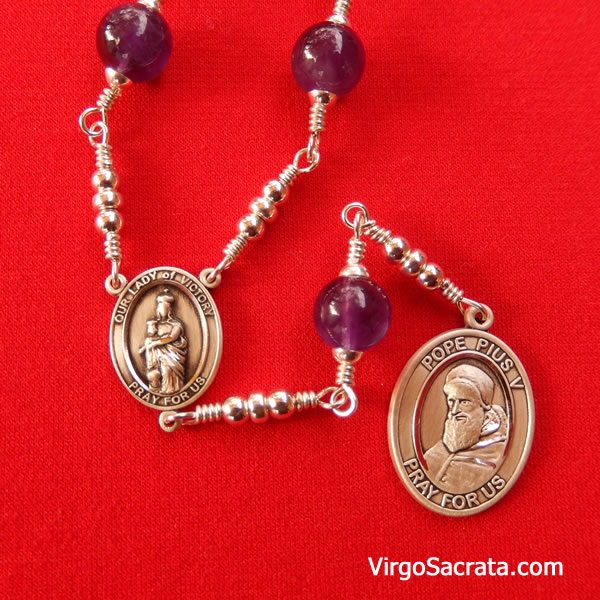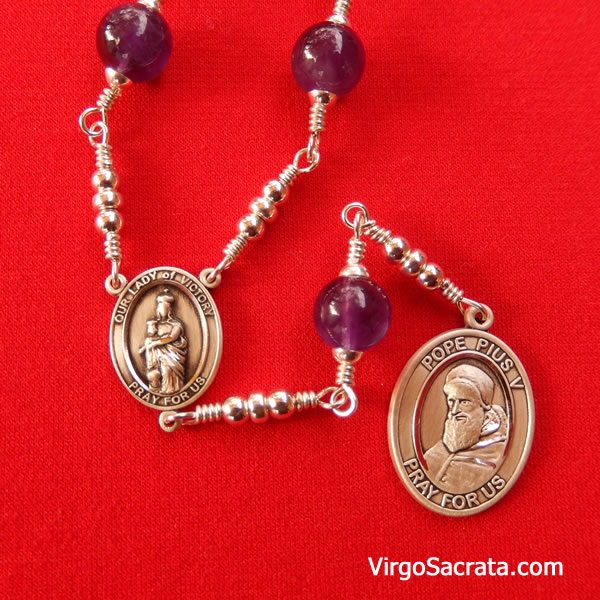 It is time for all Christians to respond to the war that has been declared first on Christendom and now on Christianity itself, as the demonic old world order rises up once again in defiance to Christ the King. Knowing that the Christian forces were at a distinct material disadvantage, the holy pontiff, St. Pope Pius V called for all of Europe to pray the Rosary for victory. Pius V instituted "Our Lady of Victory" as an annual feast to commemorate the victory at Lepanto, which he attributed to the Blessed Virgin Mary. Saint Pius V is considered as an icon of true faith, orthodoxy (correct teaching) and orthopraxy (correct practice). A prominent papal bull such as QUO PRIMUM – Apostolic Constitution of His Holiness Pope Saint Pius V on the Celebration of Masses,– will definitely remind us of our duties to God.
How to Pray the Saint Pius V Chaplet of Our Lady of Victory
1. ✞ Signum Crucis – The Sign of the Cross:
"In hoc signo vinces" —"In this sign thou shalt conquer" ~ the first Christian Roman emperor, Constantine I
In nomine Patris, et Filii, et Spiritus Sancti. Amen
In the name of the Father, and the Son, and the Holy Ghost. Amen
2. Prayer to St Pius V:
Deus, qui ad conterendos ecclesiae tuae hostes, et ad divinum cultum reparandum beatum Pium pontificem maximum eligere dignatus es: fac nos ipsius defendi praesidiis, et ita tuis inhaerere obsequiis, ut omnium hostium superatis insidiis perpetua pace laetemur. Per Dominum nostrum Jesum Christum Filium tuum, &c. R. Amen.
O God, who to the destruction of the enemies of Thy Church, and to the restoration of Thy holy worship, didst vouchsafe to elect blessed Pius to be Thy high-Priest; grant us so to be defended by his protection, and so to remain steadfast in Thy service, that overcoming the snares of all our enemies, we may enjoy perpetual peace. Through our Lord Jesus Christ Thy Son. Amen.
V. Ora pro nobis, Beate Pie.
R. Ut digni efficiamur promissionibus Christi.
V. Pray for us, blessed Pius.
R. That we may be made worthy of the promises of Christ.
(Indulgence 40 Days, once a day. ii. Plenary from First Vespers till sunset on the Feast, May 5, if said before an altar or relic of the Saint, or in a Dominican church. I, II, IV.)
3. Profession of Faith
Recite the Tridentine Creed in Catholic Tradition
4. Pray: Our Father, Hail Mary, and Glory Be …
5. On the Rosary Center of Our Lady of Victory Say the Prayer to Our Lady of Victory
O Victorious Lady, Thou who has ever such powerful influence with Thy Divine Son, in conquering the hardest of hearts, intercede for those for whom we pray, that their hearts being softened by the ways of Divine Grace, they may return to the unity of the true Faith, through Christ, our Lord. Amen.
Mention your special intention in your own words.
6. Follow Common Rosary Prayers
Announce the decade and then pray an Our Father. (Example: "The First Joyful Mystery, the Annunciation. Our Father, Who art…"). On each of the ten beads pray a Hail Mary, while reflecting upon the mystery assigned to this decade. After the ten Hail Marys, pray the "Glory be".
7. Conclude the Rosary with Optional Prayers: "Hail, Holy Queen" and "BELLI TUMULTUS"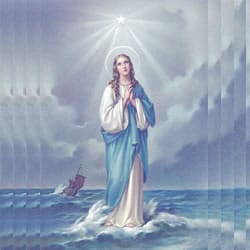 VIRGÓ SACRÁTA is a Christian mission-driven online resource and shop inspired from the beauty of Catholic faith, tradition, and arts. Our mission is to "Restore All Things to Christ!", in continuing the legacy of Pope St. Pius X under the patronage of the Blessed Virgin Mary. "Who is she that cometh forth as the morning rising, fair as the moon, bright as the sun, terrible as an army set in battle array?" O Mary, conceived without sin, pray for us who have recourse to Thee.