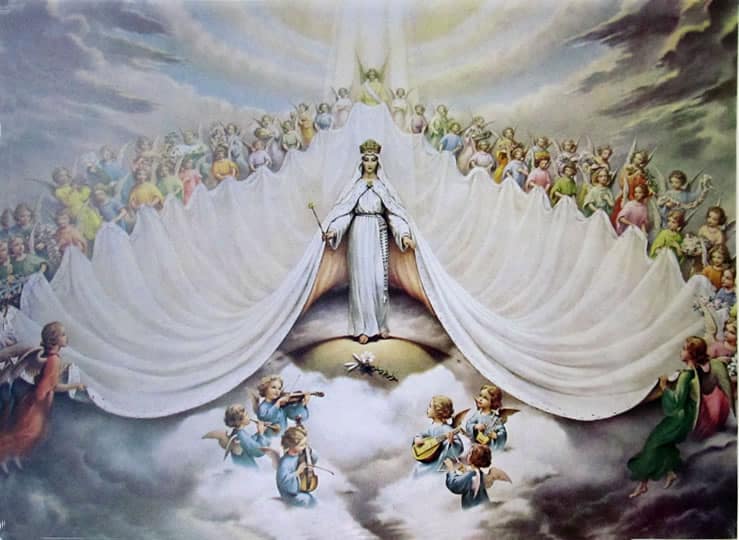 On October 11, 1954, His Holiness, Pope Pius XII, in his encyclical letter, Ad Caeli Reginam, decreed and instituted the Feast of the Queenship of the Blessed Virgin Mary to be celebrated throughout the world every year on May 31. Likewise, he decreed that on that day "there be renewed the consecration of the human race to the Immaculate Heart of the Blessed Virgin Mary."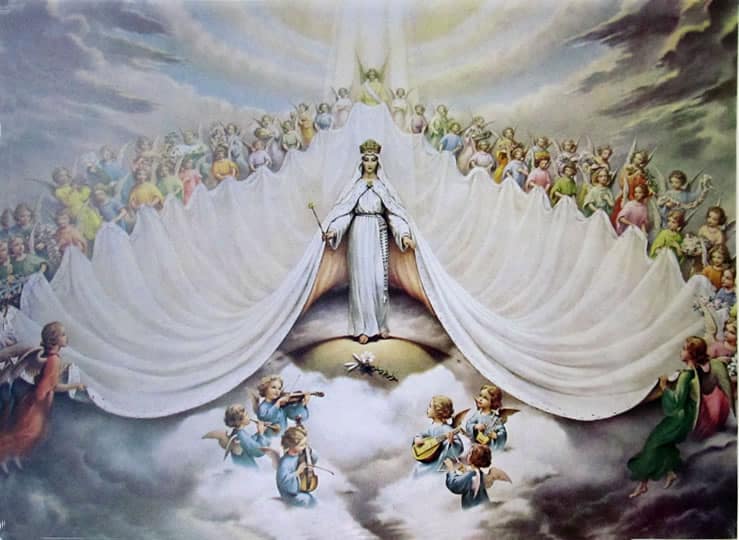 Mary Immaculate Queen, with all the emblems of her royalty
Her cloak, with its border of ermine, envelopes the earth and denotes sovereign majesty.
The sceptre in her right hand, which she holds slightly inclined in token of mercy, affirms her power and authority.
The dazzling whiteness of her garments, and also of the lily lying at her feet, evokes her virginal purity.
The side of her cloak turned towards men is the color of dawn and speaks to them of hope.
The rosary she wears invites us to prayer, and the roses adorning the large beads are symbolic of her boundless love.
She moves forward on the sphere, which represents the world, to meet her children in order to assist them in their trials; yet her feet do but glide over the earth as a reminder that this world is but a passage leading to the Eternal Homeland.
How to Enthrone Mary Immaculate Queen in Your Home And Consecrate Your Family to Her
A statue of the Blessed Virgin Mary or an icon of Mary should be blessed; If convenient, ask a priest to perform the ceremony, otherwise the head of the family leads the consecration. Prepare her altar with flowers and ideally beeswax candles, giving her an honored place in your home where all will see her and often pray to her. By choosing to enthrone Mary as Queen of our home, we wish to allow her to take over our lives, so the She may teach us to receive God's grace and make of us true sons and daughters of the Church.
Follow the Steps and Recite Prayers Together (kneeling):
Imprimi potest:
✞ Michael Epus Galviensis, 4 June, 1966
1. Act of Contrition
O MY GOD, I am heartily sorry for offending Thee.
And I detest all my sins
because I dread the loss of heaven and the fires of hell,
but most of all,
because they offend Thee, my God,
Who art all good and deserving of all my love.
I firmly resolve, with the help of Thy grace,
to confess my sins,
to do penance and to amend my life.
Amen.
2. Hail Mary (Three times) or recite/ sing The Angelicus.

Hail Mary, full of grace,
the Lord is with Thee.
Blessed art thou amongst women,
and blessed is the fruit of thy womb, Jesus.
Holy Mary, Mother of God,
pray for us sinners,
now and at the hour of our death. Amen.
3 Glory be (Three times)
Glory be to the Father, and to the Son,
and to the Holy Ghost,
as it was in the beginning, is now, and ever shall be,
world without end. Amen.
4. Invocation (Three times)
Mary Immaculate Queen: Triumph and Reign
5. Act of Consecration
O Mary Immaculate Queen, glorious Queen of the Universe, most powerful Virgin, merciful Mother of a merciful God and refuge of sinners, we consecrate ourselves to thy Royal and Immaculate Heart.
It is through Thee that Jesus Christ our King has come into the world to save it. It is also through Thee that He is to reign over the world.
In order to obtain this great benefit for ourselves and all mankind, we come to thy feet to consecrate to Thee our persons, our lives, all that we are, all that we have, all that we love. Keep us, enlighten us, dispose of us, reign over us.
May all hearts and all homes willingly proclaim Thee as their Immaculate Queen.
6. Prayer
O Mary Immaculate Queen, look down upon this distressed and suffering world. Thou know our misery and our weakness. O Thou who art our Mother, saving us in the hour of peril, have compassion on us in these days of great and heavy trial.
Jesus has confided to Thee the treasure of His Grace, and through Thee He wills to grant us pardon and mercy. In these hours of anguish, therefore, thy children come to Thee as their hope.
We recognize thy Queenship and ardently desire thy triumph. We need a Mother and a Mother's Heart. Thou art for us the luminous dawn which dissipates our darkness and points out the way to life. In thy clemency obtain for us the courage and the confidence of which we have such need.
Most Holy and Adorable Trinity, Thou Who did crown with glory in Heaven the Blessed Virgin Mary, Mother of the Savior, grant that all her children on earth may acknowledge her as their Sovereign Queen, that all hearts, homes, and nations may recognize her rights as Mother and as Queen.
Amen.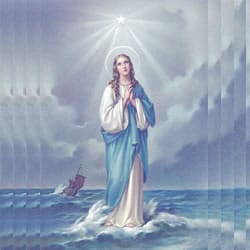 VIRGÓ SACRÁTA is a Christian mission-driven online resource and shop inspired from the beauty of Catholic faith, tradition, and arts. Our mission is to "Restore All Things to Christ!", in continuing the legacy of Pope St. Pius X under the patronage of the Blessed Virgin Mary. "Who is she that cometh forth as the morning rising, fair as the moon, bright as the sun, terrible as an army set in battle array?" O Mary, conceived without sin, pray for us who have recourse to Thee.