Description
Holy Mary Queen of the Universe Icon, beautiful vibrant colors with Gold Leaf, Hand-painted and crafted in Meteora, Greece by skilled iconographers. A Perfect Gift for any Occasion.
QUEENSHIP OF THE BLESSED VIRGIN MARY
On the 11th Of October 1954, Pope Pius XII established the Feast of the Queenship of Mary to be celebrated throughout the world, and commanded that on that day each year, the world should renew its consecration to her.
"The purpose of the Feast is that all may recognize more clearly and venerate more devoutly the merciful and motherly sovereignty of her who bore God in her womb" (Ven. Pius XII, Ad. Coeli Reginam).
On the day of her Assumption, Mary our Mother was solemnly crowned by Christ and received by the whole court of Heaven as Queen.
What Christ has done in Heaven and the Church has done on our behalf we should now do individually, that is, we should recognize Mary's Queenship, enthrone her in our homes, consecrate ourselves to her and, by this means, establish in our lives the reign of Mary Immaculate Queen of the Universe.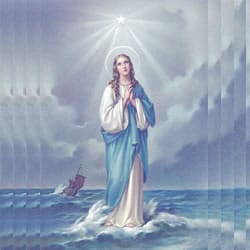 VIRGÓ SACRÁTA is a Christian mission-driven online resource and shop inspired from the beauty of Catholic faith, tradition, and arts. Our mission is to "Restore All Things to Christ!", in continuing the legacy of Pope St. Pius X under the patronage of the Blessed Virgin Mary. "Who is she that cometh forth as the morning rising, fair as the moon, bright as the sun, terrible as an army set in battle array?" O Mary, conceived without sin, pray for us who have recourse to Thee.