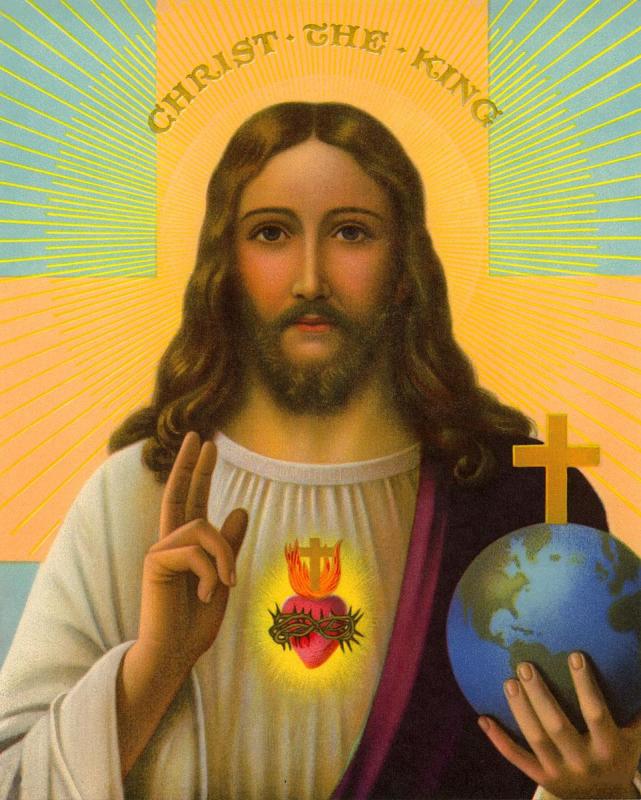 "And the seventh angel sounded the trumpet: and there were great voices in heaven, saying: The kingdom of this world is become our Lord's and his Christ's, and he shall reign for ever and ever. Amen." [Revelation 11:15]
Pope Pius XI on The Kingship of Jesus Christ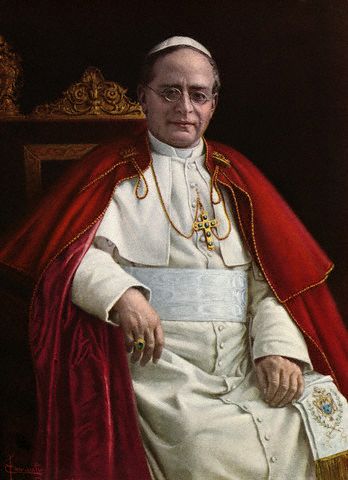 "Do we not read throughout the Scriptures that Christ is the King? He it is that shall come out of Jacob to rule, who has been set by the Father as king over Sion, his holy mount, and shall have the Gentiles for his inheritance, and the utmost parts of the earth for his possession. In the nuptial hymn, where the future King of Israel is hailed as a most rich and powerful monarch, we read: "Thy throne, O God, is for ever and ever; the scepter of thy kingdom is a scepter of righteousness."
There are many similar passages, but there is one in which Christ is even more clearly indicated. Here it is foretold that his kingdom will have no limits, and will be enriched with justice and peace: "in his days shall justice spring up, and abundance of peace …And he shall rule from sea to sea, and from the river unto the ends of the earth."
"It would be a grave error, on the other hand, to say that Christ has no authority whatever in civil affairs, since, by virtue of the absolute empire over all creatures committed to him by the Father, all things are in his power."

"As long as individuals and states refuse to submit to the rule of our Savior, there would be no really hopeful prospect of a lasting peace among nations." – Quas Primas of Pope Pius XI.
What is the rule of our Savior ?
"And one of them, a doctor of the law, asking him, tempting him: Master, which is the greatest commandment in the law? Jesus said to him: Thou shalt love the Lord thy God with thy whole heart, and with thy whole soul, and with thy whole mind. This is the greatest and the first commandment. And the second is like to this: Thou shalt love thy neighbour as thyself. On these two commandments dependeth the whole law and the prophets." ~ Matthew 22:35-40
Pope Pius X on the Separation of Church and State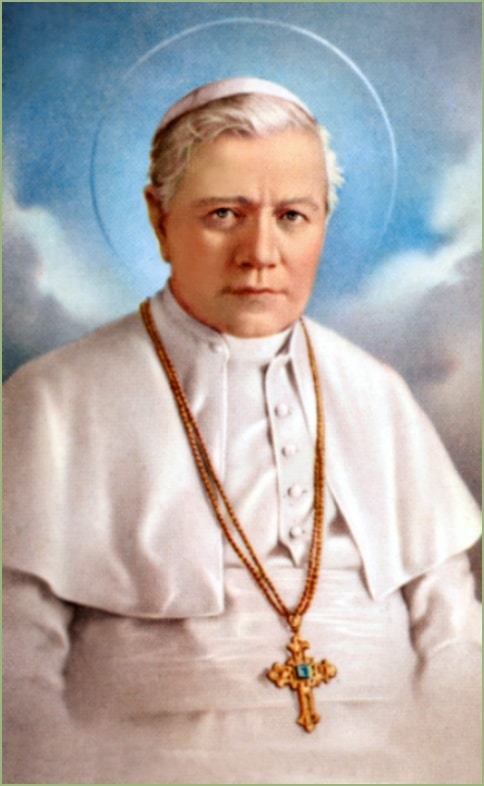 The following text comes from Pope Pius X's encyclical Vehementer Nos. These are important words for our times, in which the separation of church and state is held to be an ideal. Pope Pius X here shows how alien such separation really is to Catholic teaching.
That the State must be separated from the Church is a thesis absolutely false, a most pernicious error. Based, as it is, on the principle that the State must not recognize any religious cult, it is in the first place guilty of a great injustice to God; for the Creator of man is also the Founder of human societies, and preserves their existence as He preserves our own.
We owe Him, therefore, not only a private cult, but a public and social worship to honor Him. Besides, this thesis is an obvious negation of the supernatural order. It limits the action of the State to the pursuit of public prosperity during this life only, which is but the proximate object of political societies; and it occupies itself in no fashion (on the plea that this is foreign to it) with their ultimate object which is man's eternal happiness after this short life shall have run its course.
But as the present order of things is temporary and subordinated to the conquest of man's supreme and absolute welfare, it follows that the civil power must not only place no obstacle in the way of this conquest, but must aid us in effecting it. The same thesis also upsets the order providentially established by God in the world, which demands a harmonious agreement between the two societies. Both of them, the civil and the religious society, although each exercises in its own sphere its authority over them. It follows necessarily that there are many things belonging to them in common in which both societies must have relations with one another. Remove the agreement between Church and State, and the result will be that from these common matters will spring the seeds of disputes which will become acute on both sides; it will become more difficult to see where the truth lies, and great confusion is certain to arise.
Finally, this thesis inflicts great injury on society itself, for it cannot either prosper or last long when due place is not left for religion, which is the supreme rule and the sovereign mistress in all questions touching the rights and the duties of men. Hence the Roman Pontiffs have never ceased, as circumstances required, to refute and condemn the doctrine of the separation of Church and State.
Our illustrious predecessor, Leo XIII, especially, has frequently and magnificently expounded Catholic teaching on the relations which should subsist between the two societies.
He says:
"Quaedam intercedat necesse est ordinata colligatio (inter illas) quae quidem conjunctioni non immerito comparatur, per quam anima et corpus in homine copulantur."
Translation:
"Between them, there must necessarily be a suitable union, which may not improperly be compared with that existing between body and soul."
He proceeds:
"Civitates non possunt, citra scellus,

gerere se tamquam si Deus omnino non esset

, aut curam religionis velut alienam nihilque profuturam abjicere…. Ecclesiam vero, quam Deus ipse constituit, ab actione vitae excludere, a legibus, ab institutione adolescentium, a societate domestica, magnus et perniciousus est error."
Translation:
"Human societies cannot,

without becoming criminal

, act as if God did not exist

or refuse to concern themselves with religion, as though it were something foreign to them, or of no purpose to them…. As for the Church, which has God Himself for its author, to exclude her from the active life of the nation, from the laws, the education of the young, the family, is to commit a great and pernicious error."
---
"The State, therefore, has no right to be 'secular'. It must, as a State, recognize the Kingship of Jesus Christ and do Him homage; and, of course, so act that there is no contradiction between the laws it passes and the laws of God."
---
The Christian church on earth, which is supposed to be engaged in a constant warfare against its enemies, and is thus distinguished from the church triumphant, in heaven. So now here we are in the 21st Century, when the Holy Catholic Church is not only under attack from within with child molesting priests, but also under attack by the government, by atheists, by the media, and by satanists who destroy Communion Hosts and statues.
Hypocrisy is wickedness, which God will judge. And it is too common, for those who declare the Lord's statutes to others, to live in disobedience to them themselves. This delusion arises from the abuse of God's long-suffering, and a wilful mistake of his character and the intention of his gospel. The sins of sinners will be fully proved on them in the judgement of the great day. The day is coming when God will set their sins in order, sins of childhood and youth, of riper age and old age, to their everlasting shame and terror. Let those hitherto forgetful of God, given up to wickedness, or in any way negligent of salvation, consider their urgent danger.
The patience of the Lord is very great. It is the more wonderful, because sinners make such ill use of it; but if they turn not, they shall be made to see their error when it is too late. Those that forget God, forget themselves; and it will never be right with them till they consider. Man's chief end is to glorify God: whoso offers praise, glorifies him, and his spiritual sacrifices shall be accepted. We must praise God, sacrifice praise, put it into the hands of the Priest, our Lord Jesus, who is also the altar: we must be fervent in spirit, praising the Lord. Let us thankfully accept God's mercy, and endeavour to glorify him in word and deed. According to the Roman Missal, this feast is celebrated on the last Sunday of October. The Feast of Christ the King was established by Pope Pius XI in 1925 as an antidote to secularism, a way of life which leaves God out of man's thinking and living and organizes his life as if God did not exist. The feast is intended to proclaim in a striking and effective manner Christ's royalty over individuals, families, society, governments, and nations.
The Church is the Ark of Salvation and when we join the Church, we join Christ and enter into His Ark to be saved from the flood of death that surrounds us. Start saying rosaries every day for the intention of fighting satan and his dupes here on earth. Go to Eucharistic Adoration more, and ask God to put a stop to all of this. Fast once or twice a week for the poor souls in purgatory. Pray for the "Triumph of His Holy Church, and the downfall of her enemies." Speak out boldly whenever the Church is attacked, because that means Jesus, its head, has been attacked!
Act of Dedication of the Human Race to Jesus Christ King
A partial indulgence is granted to the faithful, who piously recite the Act of Dedication of the Human Race to Jesus Christ King. A plenary indulgence is granted, if it is recited publicly on the feast of our Lord Jesus Christ King.
Most sweet Jesus, Redeemer of the human race, look down upon us humbly prostrate before you. We are yours, and yours we wish to be; but to be more surely united with you, behold each one of us freely consecrates himself today to your Most Sacred Heart. Many indeed have never known you; many, too, despising your precepts, have rejected you. Have mercy on them all, most merciful Jesus, and draw them to your Sacred Heart. Be King, O Lord, not only of the faithful who have never forsaken you, but also of the prodigal children who have abandoned you; grant that they may quickly return to their Father's house, lest they die of wretchedness and hunger. Be King of those who are deceived by erroneous opinions, or whom discord keeps aloof, and call them back to the harbour of truth and the unity of faith, so that soon there may be but one flock and one Shepherd. Grant, O Lord, to your Church assurance of freedom and immunity from harm; give tranquillity of order to all nations; make the earth resound from pole to pole with one cry: Praise to the divine Heart that wrought our salvation; to it be glory and honour for ever. Amen.
"Unless the Lord build the house, they labour in vain that build it. Unless the Lord keep the city, he watcheth in vain that keepeth it". (Psalm 127:1)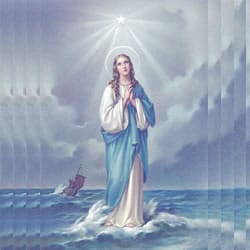 VIRGÓ SACRÁTA is a Christian mission-driven online resource and shop inspired from the beauty of Catholic faith, tradition, and arts. Our mission is to "Restore All Things to Christ!", in continuing the legacy of Pope St. Pius X under the patronage of the Blessed Virgin Mary. "Who is she that cometh forth as the morning rising, fair as the moon, bright as the sun, terrible as an army set in battle array?" O Mary, conceived without sin, pray for us who have recourse to Thee.