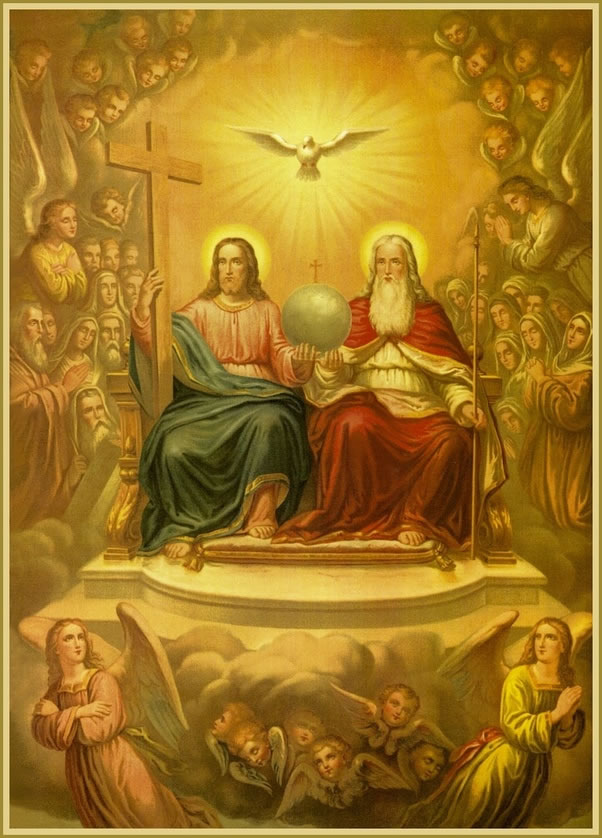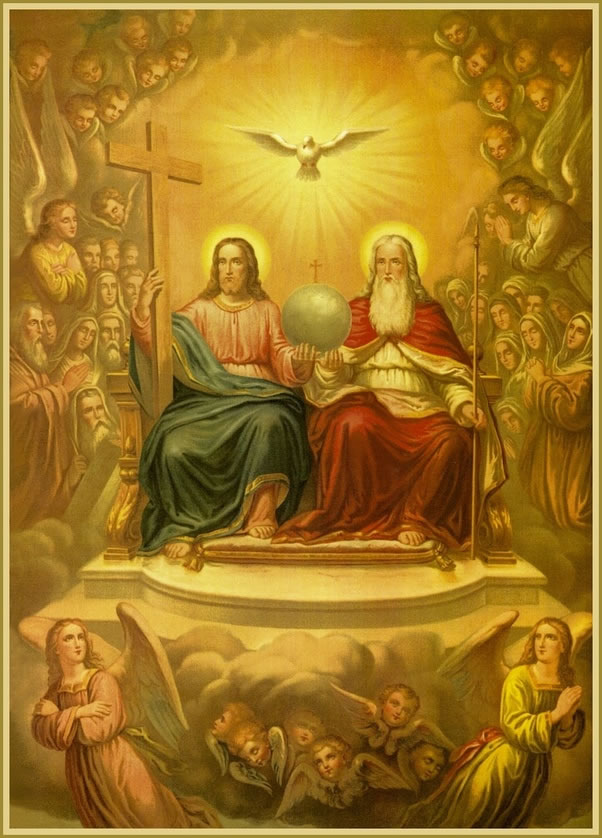 This festival is celebrated on the Sunday after Pentecost, because as soon as the apostles were instructed and consoled by the Holy Ghost, they began to preach openly that which Christ had taught them.
That we may openly profess our faith in the doctrine of the Holy Trinity, which is the first of Christian truths, the foundation of the Christian religion, and the most sublime of all mysteries; and that we may render thanks, to the Father for having created us, to the Son for having redeemed us, and to the Holy Ghost for having sanctified us.
Why do we celebrate this festival?
In praise and honor of the most Holy Trinity, the Church sings at the Introit of this day's Mass:
INTROIT Blessed be the holy Trinity and undivided Unity: we will give glory to Him, because He hath shown His mercy to us: (Tob. 12) O Lord, our Lord, how wonderful is Thy name in all the earth! (Ps. 8:1) Glory be to the Father, etc.
COLLECT Almighty, everlasting God, who hast granted to Thy servants, in the confession of the true faith, to acknowledge the glory of the eternal Trinity, and in the power of Thy, majesty, to adore the Unity: grant that, by steadfastness in the same faith, we may ever be defended from all adversities. Through, etc.
EPISTLE (Rom. 11:33-36) O the depth of the riches of the wisdom and of the knowledge of God! How incomprehensible are his judgments, and how unsearchable his ways! For who hath known the mind of the Lord? Or who hath been his counsellor? Or who hath first given to him, and recompense shall be made him? For of him, and by him, and in him, are all things: to him be glory forever. Amen.
EXPLANATION St. Paul's exclamations, in this Epistle, are caused by the inscrutable judgment of God in rejecting the Jews and calling the Gentiles. The Church makes use of these words to express her admiration for the incomprehensible mystery of the most Holy Trinity, which surpasses our understanding, and yet is the worthy object of our faith, hope and love. Although neither angels nor men can fathom this mystery, it cannot be difficult for the sound human intellect to believe it, since it is indubitably and evidently revealed by God, arid we, in many natural and human things, accept for true and certain much that we cannot comprehend.
Let us submit our intellect, therefore, and yield ourselves up to faith; as there was indeed a time when men were martyred, when even persons of all ages and conditions preferred to die rather than to abandon this faith, so let us rather wait until our faith is changed to contemplation, until we see the Triune God, face to face, as He is, and in the sight of that countenance become eternally happy. Thither should all our hopes, wishes, and desires be directed, and we should cease all fruitless investigations, endeavoring by humble faith and active love, to prove worthy of the beatific vision; for if we do not love Him who is our all, our last end and aim, and lovingly desire Him, we will have to hope of one day possessing Him.
ASPIRATION O incomprehensible, Triune God! O abyss of wisdom, power, and goodness! To Thee all glory and adoration! In Thee I lose myself; I cannot contain Thee, do Thou, contain me. I believe in Thee, though I cannot comprehend Thee; do Thou increase my faith; I hope in Thee, for Thou art the source of all good; do Thou enliven my hope; I love Thee, because Thou art worthy, of all love; do Thou inflame ever more my love, that in Thy love I may live and die. Amen.
GOSPEL (Matt. 28:18-20) At that time Jesus said to His disciples: All power is given to me in heaven and in earth. Going, therefore; teach ye all nations, baptizing them in the name of the Father, and of the Son, and of the Holy Ghost; teaching them to observe all things whatsoever I have commanded you. And behold, I am with you all days, even to the consummation of the world.
EXPLANATION Christ being God had from all eternity the same power that His Father had; being man, He had this same power by the union of His divinity with His humanity, and on account of the infinite merits of His passion. In virtue of this power, He said to His apostles, before the ascension, that, as His Heavenly Father had sent Him, even so He sent them to all nations, without exception, to teach all that He had commanded, and to receive them, by means of baptism, into the Church; at the same time He promised to be with them to the end of the world, that is, that He would console them in suffering, strengthen them in persecution, preserve them from error, and always protect them and their successors, the bishops and priests, even unto the consummation of the world.
ASPIRATION Be with us, O Lord, for without Thee our pastors cannot produce fruit, nor their hearers profit anything from their words. Be with us always, for we always need Thy help. All power is given to Thee, Thou hast then the right to command, and we are bound to obey Thy commands which by Thy Church Thou hast made known to us. This we have promised in baptism, and now before Thee we renew those vows. Grant now that those promises which without Thee we could not have made, and without Thee cannot keep, may be fulfilled in our actions. Leave us not to ourselves, but be Thou with us, and make us obedient to Thee, that by cheerful submission to Thee true may receive happiness.
Source: "The Church's Year" by Fr. Goffine, Sunday's Feast of the Holy Trinity.
Acts of Reparation for insults and blasphemies against the Holy Trinity and the Blessed Sacrament
O Most Holy Trinity, Father, Son and Holy Spirit, I adore Thee profoundly. I offer Thee the most precious Body, Blood, Soul and Divinity of Jesus Christ present in all the tabernacles of the world, in reparation for the outrages, sacrileges and indifferences by which He is offended. By the infinite merits of the Sacred Heart of Jesus and the Immaculate Heart of Mary I beg the conversion of poor sinners.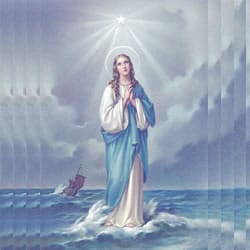 VIRGÓ SACRÁTA is a Christian mission-driven online resource and shop inspired from the beauty of Catholic faith, tradition, and arts. Our mission is to "Restore All Things to Christ!", in continuing the legacy of Pope St. Pius X under the patronage of the Blessed Virgin Mary. "Who is she that cometh forth as the morning rising, fair as the moon, bright as the sun, terrible as an army set in battle array?" O Mary, conceived without sin, pray for us who have recourse to Thee.