Description
Blessed Be God is a complete traditional Catholic prayer book, containing regular and special prayers, popular devotions, favorite novenas, meditations and readings from The Holy Bible and The Imitation of Christ, Epistles and Gospels for Sundays and Holydays.
"A Complete Catholic Prayer Book" Compiled by Frs. Charles J. Callan, OP & John A. McHugh, OP.  We've reprinted the 1960 edition of America's favorite Catholic prayer book according to its original premier deluxe specifications! This book includes such hi-quality features as a bonded leather softcover, rounded corners, sewn binding, gilded page edges, a marking ribbon and more; but you're probably wondering what's inside.
This pocket-size prayer book is not only packed with tons of favorite traditional Catholic prayers, but also includes for the Traditional Latin Tridentine Rite:
The Ordinary Mass texts (Latin/English)
Sunday Epistles & Gospels (English only)
Propers for the Requiem & Nuptial Mass (Latin/English)
Sunday Vespers
Other sacramental rites such as Baptism & Extreme Unction (in English)
Benediction of the Blessed Sacrament
and much, much more!
It's so versatile, we've nicknamed it the "Swiss Army Knife of Prayer Books".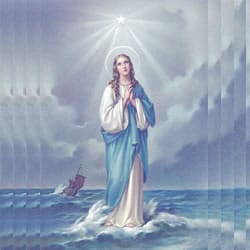 VIRGÓ SACRÁTA is a Christian mission-driven online resource and shop inspired from the beauty of Catholic faith, tradition, and arts. Our mission is to "Restore All Things to Christ!", in continuing the legacy of Pope St. Pius X under the patronage of the Blessed Virgin Mary. "Who is she that cometh forth as the morning rising, fair as the moon, bright as the sun, terrible as an army set in battle array?" O Mary, conceived without sin, pray for us who have recourse to Thee.