Madonna, Queen of Heaven Life-Size Statue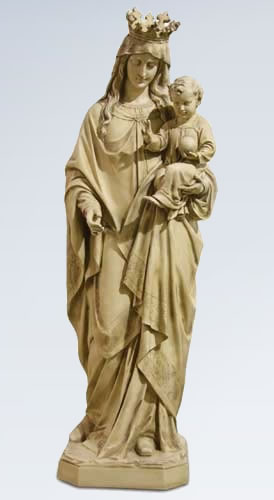 This life-size Our Lady, Queen of Heaven statue is sure to be the crowning glory for any church, home, or garden for generations. The statue was cast directly from an Italian antique. Truly awe-inspiring in the European tradition of garden sculpture, this statue is cast in high-quality, fiberglass resin. Fiberglass resin statues feature finer detail and greater strength than other materials.
The statue is made to order, and can be customized with your color finish choice, suitable for both indoor and outdoor use.  Any cancellations received after production has begun on the order are subject to 20% restocking fee. Ships within the U.S. only.
Our religious statues also include Mary statues by great masters such as Michelangelo and his Pieta, Our Lady of Grace, the Good Shepherd and Lady of Guadalupe. These Catholic statues have significant meaning, with beautiful and delicate details and features, that will inspire devotion to the Sacred Heart of Mary in your home. Please also search our site for related keywords such as Mary Statues, Images of Mary, Our Lady of Grace, Our Lady of Guadalupe, Pilgrim Virgin, Sorrowful Mother, Our Lady of Fatima, Virgin Mary.
Please feel free to contact us with any questions you may have, otherwise shop in confidence – we deliver directly from the manufacturing plant to lower overall costs of our beautiful statues. Ships within the USA only.
Please also consult our "Winter Care of Statues" page to make your statues last the longest and keep their beauty over time. And to secure outdoor sculpture, our manufacturer recommends rebar technique if you want to make a permanent mounting.
Regina Cæli – Queen of Heaven Prayer
---
Queen of Heaven
V. Queen of Heaven, rejoice, alleluia.
R. For He whom you did merit to bear, alleluia.
V. Has risen, as he said, alleluia.
R. Pray for us to God, alleluia.
V. Rejoice and be glad, O Virgin Mary, alleluia.
R. For the Lord has truly risen, alleluia.
Let us pray. O God, who gave joy to the world through the resurrection of Thy Son, our Lord Jesus Christ, grant we beseech Thee, that through the intercession of the Virgin Mary, His Mother, we may obtain the joys of everlasting life. Through the same Christ our Lord. Amen.
Regina Cæli
V. Regina cæli, laetare, alleluia.
R. Quia quem meruisti portare, alleluia.
V. Resurrexit, sicut dixit, alleluia.
R. Ora pro nobis Deum, alleluia.
V. Gaude et laetare, Virgo Maria, alleluia.
R. Quia surrexit Dominus vere, alleluia.
Oremus. Deus, qui per resurrectionem Filii tui, Domini nostri Iesu Christi, mundum laetificare dignatus es: praesta, quaesumus; ut per eius Genetricem Virginem Mariam, perpetuae capiamus gaudia vitae. Per eundem Christum Dominum nostrum. Amen.