Description
St Joseph & Child Statue 32″
---
SKU: F8389RLC
Materials
The first letter(s) of each item number generally indicates the material.*
F, HF, AK, NG, T, HT, DC = Fiberglass
FS = Fiber Stone
FIBERGLASS – By mastering the art of casting our products in fiberglass resin we manage to retain all the detail or the original with the added benefits of less weight (reduced shipping costs), greater strength, and a product suitable for indoor and outdoor use. These item numbers look like "F3456" or "HF3456".
FIBER STONE – Fiber Stone is a mixture of sand and stones cast into the surface using terrazzo-like techniques. The surface is then sandblasted and chemically treated, followed by an acid stain to give the appearance of aged stone. Since it is reinforced with a fiberglass backing, it remains light-weight and less fragile than concrete. A product is Fiber Stone if it has any of these finishes: White Moss, Verde, Pompeii, Deep Sea, Weather, Cathedral White, Earthtone, Sandstone, Autumn Rose, and Soot.
BONDED CARRARA MARBLE – An addition to our collection is imported statuary from Italy. These beautiful statues are made out of Bonded Carrara Marble. You'll love them. There is no material key for these products. These item numbers look like "220906".
For item numbers that do not fall into any of these categories, the item is most likely made of fiberglass resin. If you would like to know the material of a specific product, feel free to contact us and we will help you determine what the material is. Don't forget to tell us the item number in question.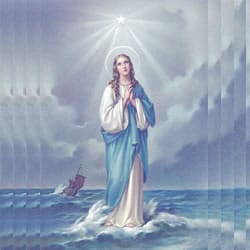 VIRGÓ SACRÁTA is a Christian mission-driven online resource and shop inspired from the beauty of Catholic faith, tradition, and arts. Our mission is to "Restore All Things to Christ!", in continuing the legacy of Pope St. Pius X under the patronage of the Blessed Virgin Mary. "Who is she that cometh forth as the morning rising, fair as the moon, bright as the sun, terrible as an army set in battle array?" O Mary, conceived without sin, pray for us who have recourse to Thee.