Description
Vatican Museum Replica Outdoor Pieta Statue – a Renaissance classic religious image.  The Pietà is a work of Renaissance sculpture by Michelangelo Buonarroti, housed in St. Peter's Basilica, Vatican City (1499).
Only 23 when he sculpted this breathtaking work of art, Michelangelo (1475-1564) required two years, a rough block of marble hauled out of the quarries at Carrara, Italy, and a huge talent to carve his "Pieta." The Pietà means Pity or Compassion, and represents Mary sorrowfully contemplating the dead body of her son which she holds on her lap. This Italian-inspired figurine is painstakingly rendered, from the folds of their garments to the peaceful face of the Madonna.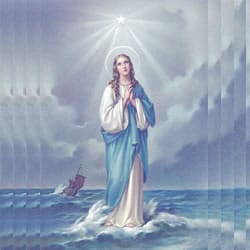 VIRGÓ SACRÁTA is a Christian mission-driven online resource and shop inspired from the beauty of Catholic faith, tradition, and arts. Our mission is to "Restore All Things to Christ!", in continuing the legacy of Pope St. Pius X under the patronage of the Blessed Virgin Mary. "Who is she that cometh forth as the morning rising, fair as the moon, bright as the sun, terrible as an army set in battle array?" O Mary, conceived without sin, pray for us who have recourse to Thee.