Description
Mathewes-Green opens up "The Gospel of Mary" to see her early life, offering a window into her centrality to the Christian Faith in new and sometimes startling ways. Christians have alternatively raised the status of the mother of Jesus to that of her Son or ignored her entirely. Behind all of the images is a girl who grew up to be the mother of Christ.
How did the first Christians view her?
What were the commonly understood facts about the Blessed Mother's early life, before the Annunciation?
How did Mary, the mother of Jesus, become the Theotokos?
This book gives some surprising insights.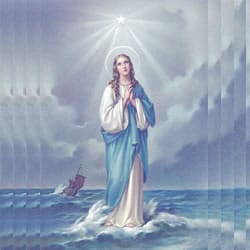 VIRGÓ SACRÁTA is a Christian mission-driven online resource and shop inspired from the beauty of Catholic faith, tradition, and arts. Our mission is to "Restore All Things to Christ!", in continuing the legacy of Pope St. Pius X under the patronage of the Blessed Virgin Mary. "Who is she that cometh forth as the morning rising, fair as the moon, bright as the sun, terrible as an army set in battle array?" O Mary, conceived without sin, pray for us who have recourse to Thee.