Description
This hardbound, gold-embossed First Communion Bible contains pages of colorful images, child-friendly stories on the lives of young Saints, daily Catholic prayers, including how to pray the Rosary, and explanations of the Seven Sacraments. This elegant edition also contains an explanation of the Mass. The treasures found in this gift Bible, a Douay-Rheims translation, will multiply the Graces received in the Sacrament of Holy Communion.
This is the original English translation of St. Jerome's Vulgate Latin which he translated from the original languages of Aramaic, Greek, Hebrew, and "Old Latin". It is still the "versio vulgata", that is, the "commonly used" translation, and remains the definitive and "officially promulgated" version of the universal, Roman Catholic Church, just as the Latin language continues to be Her official, and universal language. There is no finer or more accurate translation!
Douay Rheims First Communion Bible
---
This Bible features the cherished, traditional Douay-Rheims translation.
Contains three sections of inserts relating to the Sacrament (32 full-color pages).
Supplemental material is written for children (ages approx. 7-11).
Inserts include:

"First Communion Edition" Bible presentation page
Saints stories: Blessed Imelda & St. Tarcisius (including pictures)
Prayer before Communion
Section on the Holy Sacrifice of the Mass
My daily Catholic Prayers (includes most common Catholic Prayers)
How to say the Rosary, includes the mysteries
List and description of Seven Sacraments
 Extras For Your First Communion Gift
---
Now that you have chosen the best Bible for your Communicant, why not get a beautiful rosary from the Virgo Sacrata?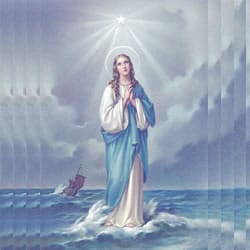 VIRGÓ SACRÁTA is a Christian mission-driven online resource and shop inspired from the beauty of Catholic faith, tradition, and arts. Our mission is to "Restore All Things to Christ!", in continuing the legacy of Pope St. Pius X under the patronage of the Blessed Virgin Mary. "Who is she that cometh forth as the morning rising, fair as the moon, bright as the sun, terrible as an army set in battle array?" O Mary, conceived without sin, pray for us who have recourse to Thee.